Social and Economic Justice
Promoting Equality for Everyone
NIFC works to reduce social and economic gaps as a means of safeguarding democracy and building a cohesive society.
With 1 in 3 Israeli children living below the poverty line, the Israeli public is more united behind the desire for social and economic justice than on any other single issue.
Specifically, our work focuses on some of the most critical root causes of socio-economic gaps: the lack of housing options and deep inequality in the distribution of public resources.
Examples of recently-funded projects include Adva's gender equality analyses of Israel's state budget and Bizchut's disability rights hotline.
Adva Center
Education on Social and Economic Rights
The Adva Center monitors inequality in Israel's budgets and social services, while its educational programs empower marginalized groups to participate in policy-making. Our 2020 project educates the public with a focus on gender issues and the cost of the occupation. In the current crisis, our project is providing much-needed information on pre-existing social gaps in Israel.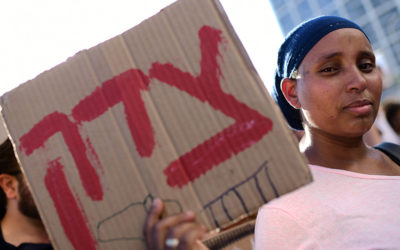 A study by the Adva Center – a think-and-do tank that monitors social and political developments in Israel and is supported by the NIF global network — found that Ethiopian Israeli women face a series of discriminatory obstacles in Israel's job market. These barriers...
Get updates in your inbox
Sign up for our email newsletter and receive the latest news, invitations to events, and progress updates.