Advancing Equality for Israel's Largest Minority
NIFC works to promote full equality for Palestinian citizens of Israel, who comprise 20% of Israel's population, and to enhance their participation in Israel's democratic processes and institutions.
The Palestinian-Israeli community is the main national non-Jewish minority within Israel and is affected directly by the historical Israeli-Arab conflict. Discrimination against this minority is rife in allocation of public resources, representation in decision-making bodies, and more.
Specifically, our focuses are correcting the deep inequality of land use and building permits denied to Arab communities, supporting initiatives to empower Palestinian-Israeli women, and promoting civic engagement.
Examples of recently-funded projects include Bimkom's work to secure public services for unrecognized Bedouin villages and NIF-Shatil's support to the leaders of Arab civil society organizations during COVID-19.
Bimkom – Planners For Planning Rights
Advancing Recognition and Proper Planning of Bedouin Villages
Bikmom – Planners for Planning Rights strengthens human rights in the field of urban planning and housing policies in the Negev. Bimkom employs planners, engineers, and legal advisors to help unrecognized Bedouin villages to secure essential services. This year, our project is assisting two villages, including one facing immanent eviction — important work which continues amidst the current crisis.
New Israel Fund's Shatil Department
Strengthening Arab Civil Society in Israel
Shatil is the operating arm of the New Israel Fund in supporting the social change sector as a whole, including training for organizations and activists. Our 2020 project bolsters the capacity of Arab civil society groups via trainings on social change tools, work plan development and implementation, and other capacity building initiatives. During the current crisis, Shatil has quickly shifted to helping Arab civil society organizations adapt and continue their crucial work for Palestinian citizens.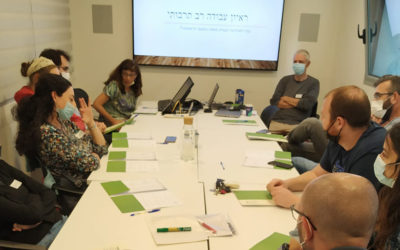 In Jerusalem, a local subsidiary of an American software design company is working to improve diversity in its 500-person workspace thanks to Shatil. As part of Shatil's "Diversity in the Workplace" project, the company is working to increase the diversity of staff...
Get updates in your inbox
Sign up for our email newsletter and receive the latest news, invitations to events, and progress updates.