Promoting Pluralism and Tolerance
NIF works to secure freedom of and from religion, as part of a vision of a pluralistic and multireligious Israel. We fight for religious tolerance, for gender equality, and against the ultra-Orthodox monopoly on Jewish public life.
An overwhelming percentage of Israelis support religious freedom and yet the issue remains one of the core obstacles to true equality for non-Orthodox citizens.
Specifically, our work focuses on broad coalitions of Israelis from all walks of life who work together to end the Orthodox monopoly on state religion, as well as focusing on strengthening moderate and women's voices within the orthodox community.
Examples of recently-funded projects include the Israel Religious Action Center's legal defense for LGBTQ couples and Mavoi Satum's legal aid for secular and religious women undergoing divorce in religious courts.
The Israel Religious Action Center (IRAC)
Legal Assistance and Advocacy for the LGBT Community
The Israel Religious Action Center (IRAC) – the advocacy arm of the Reform Movement in Israel — is the country's preeminent civil and human rights organization focusing on the issues of religion and state. Our 2020 project aims to decrease incitement against the LGBT community, support pride efforts, and promote equal rights for LGBT couples seeking immigration and adoption. In the current crisis, this vital work continues.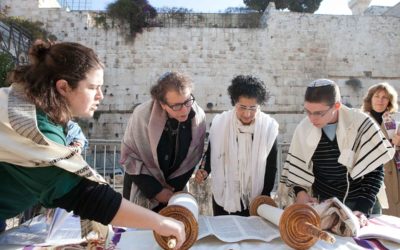 Last week the Israeli government reneged on its pledge to implement an agreement to open a mixed-gender prayer space at the Western Wall. The agreement for a pluralist Kotel has a long history. After three years of negotiations, then Prime Minister Benjamin...
Get updates in your inbox
Sign up for our email newsletter and receive the latest news, invitations to events, and progress updates.