Equality for Every Citizen and Human Rights for All
NIFC works to realize Israel's founding ideal of complete equality for all Israeli citizens, and to protect the human rights of all under Israeli authority – including asylum seekers, migrant workers, and Palestinians in the Occupied Territories.
Over the past decade, respect in Israel for democracy and human rights has declined, both among government leaders and many segments of the public. Israel's world ranking according to measures of rights and freedoms continues to fall.
Our strategies for this issue focus on reversing restrictions on freedom of speech and expression, which underpin vibrant public debate on all issues. A second focus aims to end over 50 years of occupation by keeping the issue on the public agenda, even when it is unpopular.
Examples of recently-funded projects include the Association for Civil Rights in Israel's legal defense for victims of economic discrimination, Physicians for Human Rights-Israel's medical clinic for asylum seekers and refugees, and Ir Amim's monitoring of Palestinian human rights in East Jerusalem.
The Association for Civil Rights in Israel (ACRI)
Protecting Social and Economic Rights
ACRI is the country's largest and oldest civil liberties organization. Our 2022 project will assist hundreds of thousands of citizens, residents and asylum seekers in Israel, mainly via affecting policies related to health, education, and vulnerable populations in the welfare system.
Emek Shaveh
Educating about Cultural Heritage Rights in the context of the Occupation
Emek Shaveh works to prevent the politicization of archaeology in the context of the Israeli-Palestinian conflict. Our 2022 project will expand Emek Shaveh's tours in order to expand greater numbers of Israelis about this phenomenon.
Breaking the Silence
Educating Young People on the Occupation
Breaking the Silence is an organization of former IDF soldiers who use the testimonies of Israeli soldiers who served in the occupied Palestinian territories to educate the Israeli and international public about the occupation. Our 2022 project will educate young Israelis on the human rights situation in the occupied Palestinian territories, based on information from testimonies.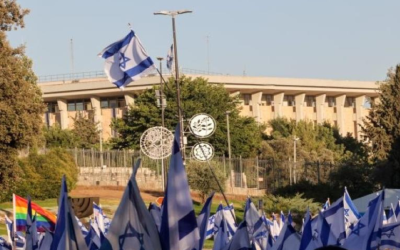 When the Knesset's summer session began, the government introduced legislation attacking civil society almost immediately and far-right ministers were introducing anti-democratic legislation left and right: laws against civil rights groups, against freedom of...
Get updates in your inbox
Sign up for our email newsletter and receive the latest news, invitations to events, and progress updates.