Visions of Heritage, Identity and Jerusalem: Only Ours or a City of Peace?
9 December 2022 @ 7:00 pm

-

9:00 pm
A private briefing with Alon Arad, Executive Director of Emek Shaveh
Hosted by the Mile End Chavurah Social Justice Committee
Friday, December 9 at 7:00 PM Eastern
Address will be shared upon registration
Earlier this month, Israel's fifth election in four years resulted in disturbing gains by racist, homophobic, and anti-democratic politicians that will likely win key cabinet positions. While half of the Israeli public voted against such extremists, what explains their increased influence within the right-wing bloc?
However, even before the last elections, for twenty-five years, consecutive governments in Israel have been cooperating with right-wing organizations in an effort to "recreate" a biblical landscape in Jerusalem's Historic Basin. Historic sites are being used as a means to redefine the religious and cultural identity of the land, in order to promote the idea that Israel is the only legitimate sovereign.
How do historical narratives shape public discourse in Israeli society today?
What role do heritage sites in the shaping of self, group, and regional identity?
Can heritage in Jerusalem be shared or is it a zero-sum game of winners and losers?
How can change be made under Israel's most right-wing government in history?
How can archeology be a bridge between the different peoples who call Jerusalem home?
Join us for a private discussion about heritage sites and the narratives they promote, or engender, – and the consequences of these narratives – with Alon Arad, Executive Director of Emek Shaveh and Laurence Barchichat, Development Officer of the New Israel Fund of Canada.
About Our Speaker
Alon Arad is the Executive Director of Emek Shaveh. Emek Shaveh is an Israeli NGO working since 2009 to defend cultural heritage rights and to protect ancient sites as public assets that belong to members of all communities, faiths and peoples.
Alon has studied archaeology in Tel Aviv University. During his studies he researched the 3rd millennium BCE and focused on ancient urbanism and immigration. During the last few years Alon has worked for a strategic consulting company specializing in crisis management and conflict negotiation. In January 2022 Alon began his term as Director of Emek Shaveh. Alon Grew up in Tel Aviv, married to a physician and raising two daughters and a dog.
 About Us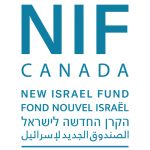 Since 1986, the New Israel Fund of Canada has contributed over $10 million to more than 100 organizations in Israel that fight for socio-economic equality, religious freedom, civil and human rights, shared society and anti-racism, Palestinian citizens, and democracy itself.