NIF Film Club: Cinema Sabaya
8 December 2022 @ 3:00 pm

-

4:00 pm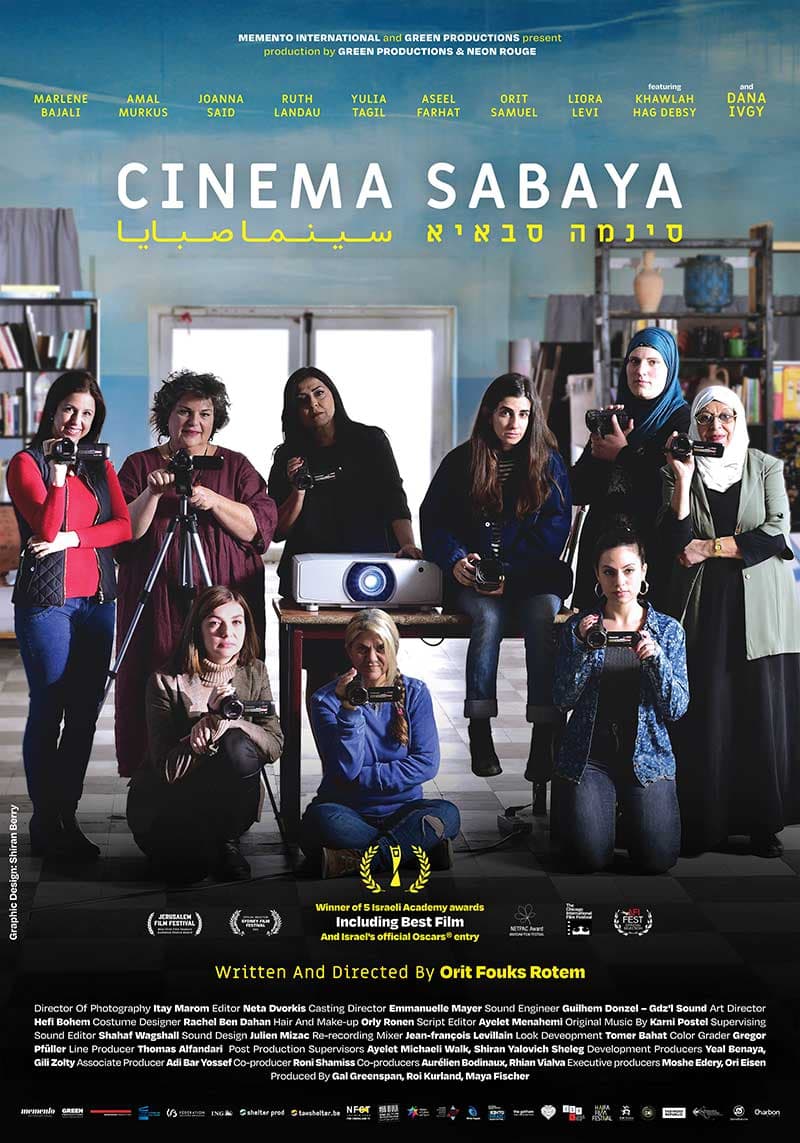 A group of Arab and Jewish women attend a video workshop at a small town community center run by Rona, a young filmmaker from Tel Aviv, who teaches them to document their lives. As each student shares footage from her home life with the others, their beliefs and preconceptions are challenged and barriers are broken down.
The group comes together as mothers, daughters, wives, and women living in a world designed to keep them apart, forming an empowering and lasting bond as they learn more about each other… and themselves.
Inspired by writer/director Orit Fouks Rotem's own experiences as a teacher, Cinema Sabaya presents a deft and heartfelt portrait of art's capacity to unite disparate communities, moving effortlessly between the gravity of their conversations and the genuine joy generated by this unlikely group of friends.
Cinema Sabaya is the winner of five Ophir Awards including Best Picture and Best Director and Israel's Official Submission to the 95th Academy Awards.
Sign up on NIF's webpage to join the post-film conversation on Thursday, December 8th at 12 PM Pacific / 2 PM Central /3 PM Eastern with the film's director, Orit Fouks Rotem and NIF's VP for Public Engagement, Libby Lenkinski. Once you sign up, you will receive details on how to watch the film. Watch the film at your own convenience before the post-film discussion.
About the speakers:
Orit Fouks Rotem was born in Israel in 1983. She graduated from the Jerusalem Sam Spiegel School with honors in 2012, winning her class' 'Promising Director' Award. Her diploma film "Staring Match" was screened in festivals all over the world, including: San Sebastian, Montreal, Munich and won the Grand Prix award at the Hangzhou Festival in China, Best Screenplay Award at Tel Aviv Student Film Festival, and an Honorable Mention at the Jerusalem Film Festival.
After graduating, Orit co-directed a documentary series for the Israeli Channel YES Doco; worked as a film facilitator and director for Israeli NGO, making films with at-risk youth; worked as a filmmaking teacher of groups of women in Acres and Givat Haviva. She also conducted research for a documentary by the Oscar-award-winning director Alex Gibney, and wrote and directed two short fiction films – "You Remain Silent", that was a part of the Abraham Heffner tribute "Voice Over" and premiered in Sarajevo and Jerusalem Film Festival 2018 and The MOMA, and "Veil" that that was selected to various festivals around the world including The Oslo Short Film Festival, Jerusalem Film Festival and Brussels Short Film Festival.
Cinema Sabaya, Orit's Debut feature film, won 5 Ophir (Israeli Film and TV Academy) Awards for Best Picture, Best Director for Rotem, and Best Supporting Actress for Joanna Said. The film also received Best Picture Award and audience Award at the Jerusalem International Film Festival. Cinema Sabaya is the official Oscars® entry for Israel.
Libby Lenkinski is the Vice President for Public Engagement at the New Israel Fund, where she leads all aspects of NIF's public efforts in the United States – including communications, digital, programs, events, leadership, community partnerships and engagement, New Generations and our fellowships. Prior to joining NIF, Libby lived and worked in the Israeli non-profit field for almost a decade. There she worked as Director of International Relations at the Association for Civil Rights in Israel (ACRI) and as a strategy consultant for human rights organizations like Yesh Din and Physicians for Human Rights, for documentary films including Budrus and The Law in These Parts, new media initiatives like +972 Magazine, and for progressive campaigns. She is a founding member of Zazim-Community Action and The Whistle. Currently, Libby serves on the board of Comet-ME, Hashomer Hatzair North America and is a NY co-chair for the Reboot Network. Libby is based in Brooklyn and travels to Israel-Palestine frequently.