Extremism in Jerusalem: What to Make of It and Where We Go From Here
3 May 2021 @ 1:00 pm

-

2:00 pm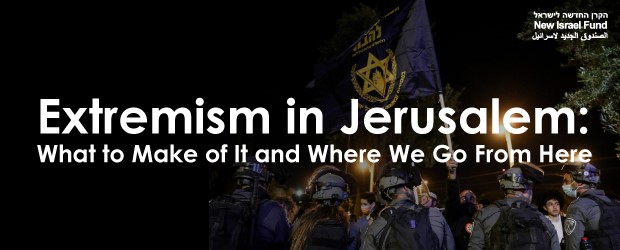 Zoom link provided upon registration.
Jerusalem is a symbol of hope, faith, and truth for so many. But last week, the streets were filled with young people, looking for confrontation. Jewish extremists, buoyed by the election of Kahanists to the Knesset, organized a march through the city aimed at intimidating its Palestinian residents. Violence was in the air, once again.
Join us as we speak with organizers and experts working to make Jerusalem safer and more tolerant while helping to diffuse violence and combat racism. They will tell us about the events of the last few weeks, and help us understand what might come next.
This webinar will feature a personal account of the events from a Jerusalem resident, and will delve into the work of organizations funded by the NIF global network — like Ir Amim, which promotes an equitable and stable Jerusalem, the Israel Religious Action Center (IRAC), which established the Racism Crisis Center as a joint initiative with the Coalition Against Racism in Israel, and Lighthouse, which researches the far-right in Israel.