20 Years of Israeli Society Through the Camera Lens
August 3 @ 8:00 pm

-

9:30 pm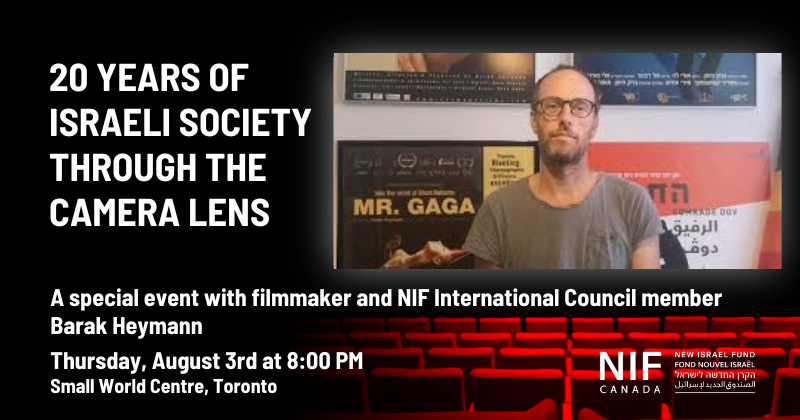 *THIS EVENT IS SOLD OUT. ONLY REGISTERED PARTICIPANTS WILL BE ADMITTED*
At this moment of political turmoil and crisis on-the-ground, we are pleased to invite you to a special evening with NIF International Council Member Barak Heymann here in Toronto.
Barak is one of the most prolific documentary filmmakers in Israel today and is the head of the film school at Beit Berl College.
In this exciting new program, Barak will interweave select clips of films and television series he has created over the last twenty years, all of which touch on issues and layers that make the Israeli reality so complex ⁠— conflicted, violent, corrupted and racist, and at the same time full of good people who are seeking a change.
We will meet characters from his upcoming series "Leaving for Good" which features a couple of recent emigrants ⁠— a Palestinian citizen from Jaffa married to an asylum seeker from Sudan ⁠— who left their home for Toronto in search of a better future. Barak will interweave their story and the stories of other characters to bring us behind the scenes on his creative process and his dealings with social and political issues.
Join us on Thursday, August 3rd at 8:00 PM for this unique retrospective of 20 years of Israeli society seen through the camera lens. Advance registration is required. Please register below.
Barak Heymann was born in 1976 in Yedidia Village in the north of Israel. He has been directing and producing documentaries for TV and cinema for 20 years. Barak and his brother Tomer founded an independent film company, Heymann Brothers Films, through which they have been producing over 30 original documentaries, as well as international co-productions. Their films have premiered in numerous festivals worldwide, such as Berlinale, IDFA and Hotdocs, where they have won prestigious awards. Barak is the head of the film department in Beit-Berl College and is working on 2 new projects, which he will present, for the first time, at our event.