What Happens Next: Emergency Briefing Follow Up
August 10 @ 12:00 pm

-

1:00 pm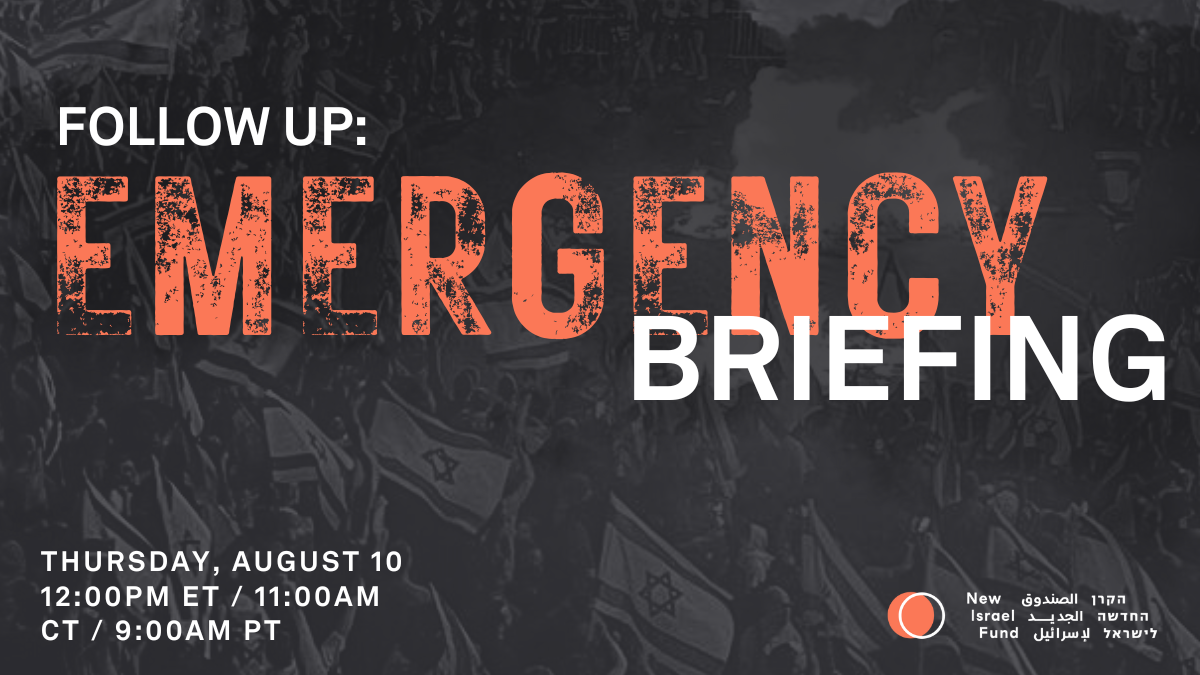 Two weeks ago, Netanyahu's settler-led government passed the first piece of their judicial coup. It passed in a 64-0 vote despite weeks of protests, strikes, and civil disobedience by Israelis from all walks of life.
But the crisis is far from over. In the final days of its session, the Knesset continued to pass dangerous and discriminatory legislation—legislation that links up to its agenda to weaken the Supreme Court, including efforts to annex the West Bank. We know that we are watching a turning point in Israeli history right now. With your help, we are ready to keep fighting.
Join NIF leadership on Thursday, August 10th, at 12 PM ET / 11 AM CT / 9 AM PT for a follow-up emergency briefing on what we have learned over the past two weeks and what remains yet to come. Click here to register on NIF US's website.
SPEAKERS
Daniel Sokatch has served as the CEO of the New Israel Fund since 2009. During the past decade of extraordinary challenges, NIF has risen to new heights as the great defender of justice, democracy and equality in Israel.
Before joining NIF, Daniel served as the CEO of the Jewish Community Federation of San Francisco, the Peninsula, Marin and Sonoma Counties. Prior to his tenure at the Federation, he was founding Executive Director of the Progressive Jewish Alliance (now Bend the Arc). In recognition of his leadership, Daniel has been named multiple times to the Forward newspaper's "Forward 50," an annual list of the fifty leading Jewish decision-makers and opinion-shapers. He has contributed articles to leading newspapers and magazines, including The New York Times, Washington Post, the Forward and Haaretz, and is the author of forthcoming book, Can We Talk About Israel: A Guide for the Curious, Confused, and Conflicted (Bloomsbury, 2021). Daniel holds an MA from the Fletcher School at Tufts University, a JD from Boston College Law School, and a BA from Brandeis University. He is married, is father to two daughters, and resides in San Francisco.
Fida Nara Tabony is Shatil's Director in Haifa. In that role, she coordinates Shatil's work to develop civil society in Northern Israel, with a particular emphasis on building Palestinian civil society in Israel. Previously, Fida was Mahapach-Taghir's Co-Director. Mahapach-Taghir meaning 'change' in both Hebrew and Arabic, is a grassroots feminist Jewish-Arab organization for social change, established to promote a shared society in Israel with equal opportunities for all. Fida was born in Nazareth and grew up in Neve Shalom, an Arab-Jewish village. She holds a bachelor's degree in Social Work from Tel-Hai College and a master's degree in Gender Studies from Bar Ilan University. Fida has always strived to learn and develop personally and professionally – she has participated in different courses, including Conflict Management, Community Organizing for Social Change, and Facilitators Training. She serves as a Member of the National Secretariat of Hadash – The Democratic Front for Peace and Equality; she was on the Hadash Knesset list (number 8) during the 2019 elections. For the past 25 years, Fida has dedicated her life to women's empowerment and social change. Her activism started as a young woman volunteering at the Hotline for Victims of Sexual Violence, she then proceeded to work as the Coordinator for the Awareness Raising Project at Women Against Violence for 13 years and eventually became the Director of the Social Change Unit at Women Against Violence. She has two daughters.
Shira Ben Sasson Furstenberg is the Associate Director of NIF Israel and Director of the Development and International Relations Department. She previously served as Chief of Staff and spent ten years working as a Grants and Program Officer at NIF and Shatil, focusing on the issues of Jewish pluralism and religious freedom. Shira was the director of the Jewish Pluralism Watch, the Masorti (Conservative) Movement's Knesset watch. She also served as the director of iRep- Israel Religious Expression Platform, the Jewish Federations of North America, and worked at the Knesset research and information center. Shira holds BA and MA degrees in sociology and anthropology from the Hebrew University and lives in Jerusalem.
David N. Myers in addition to being NIF's Immediate Past Board President, Myers is the Sady and Ludwig Kahn Professor of Jewish History at UCLA as well as the director of the UCLA Luskin Center for History and Policy. He served as President/CEO of the Center for Jewish History in New York during 2017-18. An alumnus of Yale College (1982), Myers undertook graduate studies at Tel-Aviv and Harvard Universities before receiving his Ph.D. with distinction in 1991 in Jewish history from Columbia University. He has written widely in the fields of Jewish intellectual and cultural history. His books include Re-inventing the Jewish Past (Oxford, 1995), Resisting History: The Crisis of Historicism in German-Jewish Thought (Princeton, 2003), Between Jew and Arab: The Lost Voice of Simon Rawidowicz (Brandeis, 2008), Jewish History: A Very Short Introduction (Oxford, 2017), and The Stakes of Jewish History: On the Use and Abuse of Jewish History for Life (Yale, 2018). Myers has also edited or co-edited nine books, including most recently American Shtetl: The Making of Kiryas Joel, a Hasidic Village in Upstate New York (Princeton, 2022) and The Eternal Dissident: Rabbi Leonard I. Beerman and the Radical Imperative to Think and Act (California, 2018). At present, he is completing a monograph, with Nomi Stolzenberg, on the Satmar Hasidic community of Kiryas Joel, New York.
From 2010-15, Myers served as the Robert N. Burr Chair of the History Department. Prior to that, he served as Vice Chair for Academic Personnel in the History Department (2002-04). For ten years, Myers served as Director of the UCLA Center for Jewish Studies (1996-2000, 2004-09, 2010-11). Myers has taught at the École des Hautes Études en Sciences Sociales (Paris) and Russian State University for the Humanities (Moscow). He has received fellowships from the Leo Baeck Institute, Fulbright Foundation, Lady David Trust, and the Memorial Foundation for Jewish Culture. Myers has been a fellow at the Katz Center for Advanced Judaic Studies at the University of Pennsylvania on three occasions (1995, 2009-10, 2016); he has also visited at the Institute for Advanced Studies in Jerusalem in 1997. Myers has served as a member of the board of the Association for Jewish Studies, as well as a teacher for the Wexner Heritage Foundation. He writes frequently on matters of contemporary Jewish concern. Since 2002, Myers has served as co-editor of the Jewish Quarterly Review. He is an elected Fellow of the American Academy for Jewish Research, as well as a Fellow of the Los Angeles Institute for the Humanities.