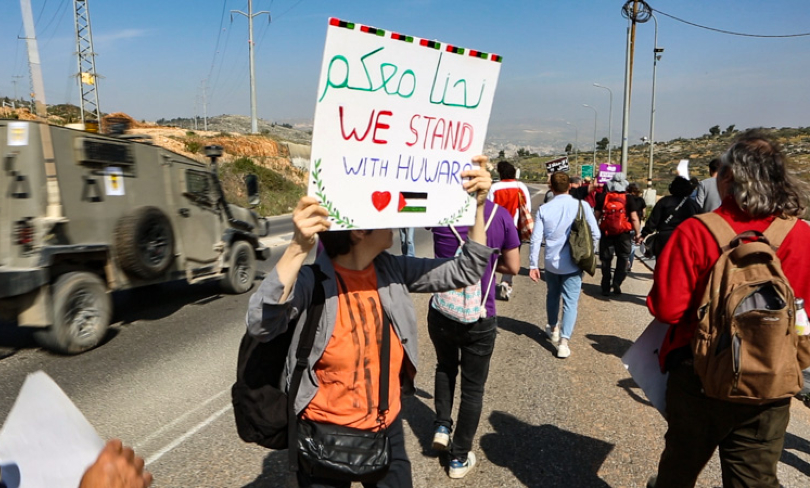 Credit: Mati Milstein
"Now in Huwara I held in my hand, the remains of stun grenades and gas cannisters that the IDF threw into a house that rioters had burned," wrote NIF Associate Director Resources Development Shira Ben-Sasson Furstenberg on Wednesday, as she reflected on a solidarity visit she went on together with NIFC partner Tag Meir. Thirty Israelis took part to pay respects to Huwara's residents and stand in solidarity with them.
Two days later, there was another solidarity visit, this time with hundreds of participants. It was led by NIF grantee Omdim Beyachad-Naqef Ma'an (Standing Together) and the organization Looking the Occupation in the Eye.
But the Israeli army blocked the activists' buses from entering the village. The visitors were not deterred and continued on foot, determined to embrace the affected families. The army attacked the activists on the solidarity visit, beating people and launching stun grenades at them.
In one incident caught on camera, a 20-year-old soldier pelted Avram Burg, former Speaker of the Knesset and Shira Ben-Sasson Furstenberg's uncle, with rocks and aggressively pushed him.
The violent settler pogrom, enabled by the soldiers who stood by and watched, the military's attacks on activists paying a solidarity visit, and the police's brutal crackdown on pro-democracy protesters are all connected and must be a wakeup call for Israelis.
In response to the settler rampage in Huwara and continuing violence by settlers in the West Bank, NIFC immediately issued emergency funding to Israeli human rights NGO Haqel to increase human rights monitoring of Palestinians in Area C. Donate to this emergency project here.