Robbie is an educator and storyteller from Toronto. He studied Societal Entrepreneurship at the International Youth Initiative Program in Järna, Sweden. Recently, Robbie has been involved with a series of social change initiatives around the world, including action research around local currency initiatives, grassroots journalism in Israel-Palestine, climate resilience education in Toronto, educational consulting in the Philippines, and grant writing for Hashomer Hatzair Canada. Currently, he is also studying Mathematics at Ryerson University. Robbie is inspired by how collective and family history can come alive in our identities today, and moved by discovering his own family's history in Eastern Europe. He is excited to be part of the 2019-2020 cohort of fellows with the New Israel Fund of Canada, and to support public engagement on Israel-Palestine in Toronto.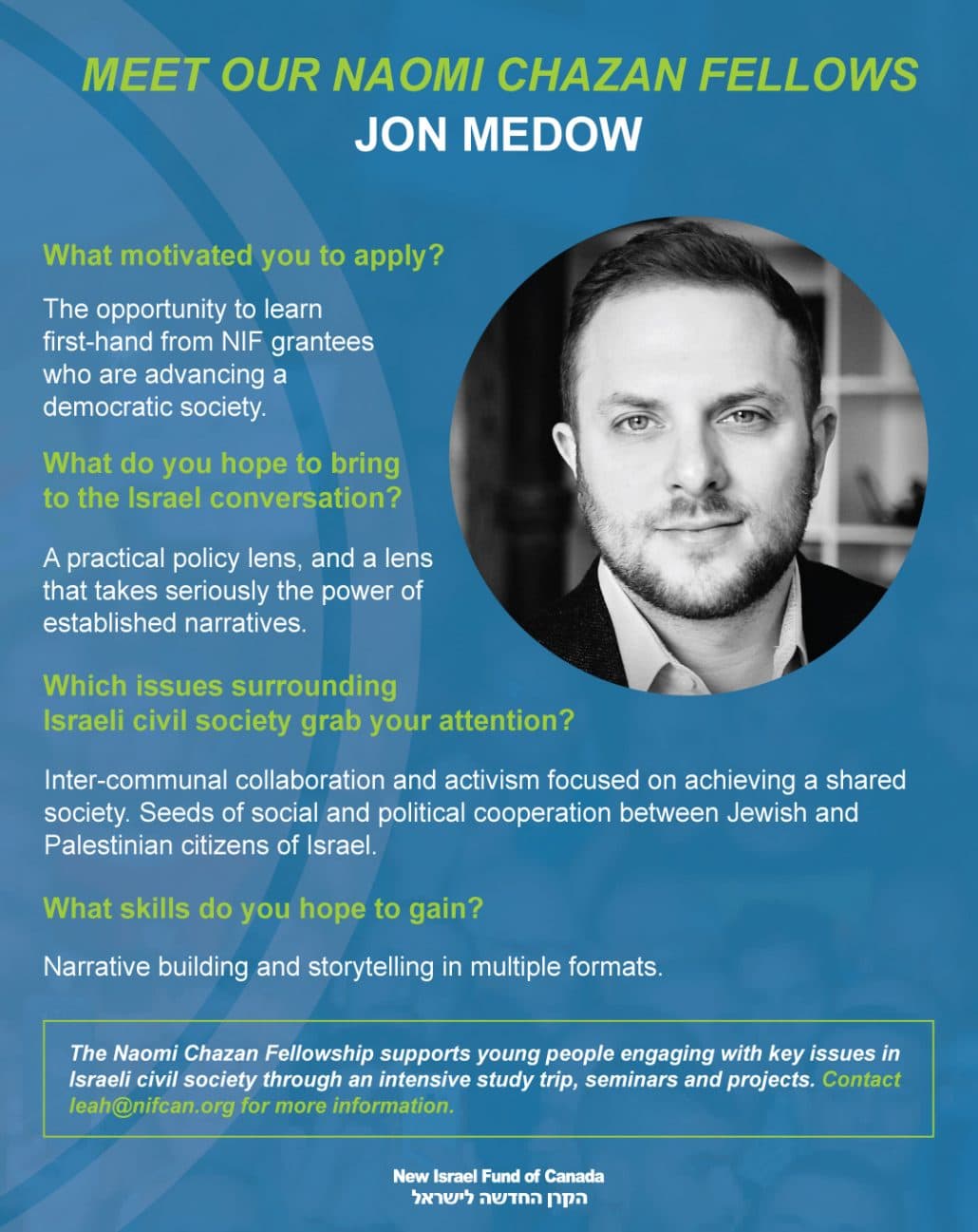 Jon grew up in Michigan and moved to Toronto in 2003 as an international student, later becoming a Canadian Citizen. Jon is currently an independent public policy consultant. In government, he served as a senior policy advisor to two Ontario cabinet ministers and as policy manager for development the Indigenous Institutes Act, 2017, recognizing Indigenous post-secondary education institutions in Ontario. His work in the think tank and non-profit sectors has focused upon income security and affordable housing. He is currently collaborating with the Ryerson Leadership Lab and media production firm Sandbox Inc. on a new digital case-study approach to public policy education. Jon is excited to build connections with activists and organizations advancing democratic principles in Israel. He holds a BA and MA in political science from the University of Toronto.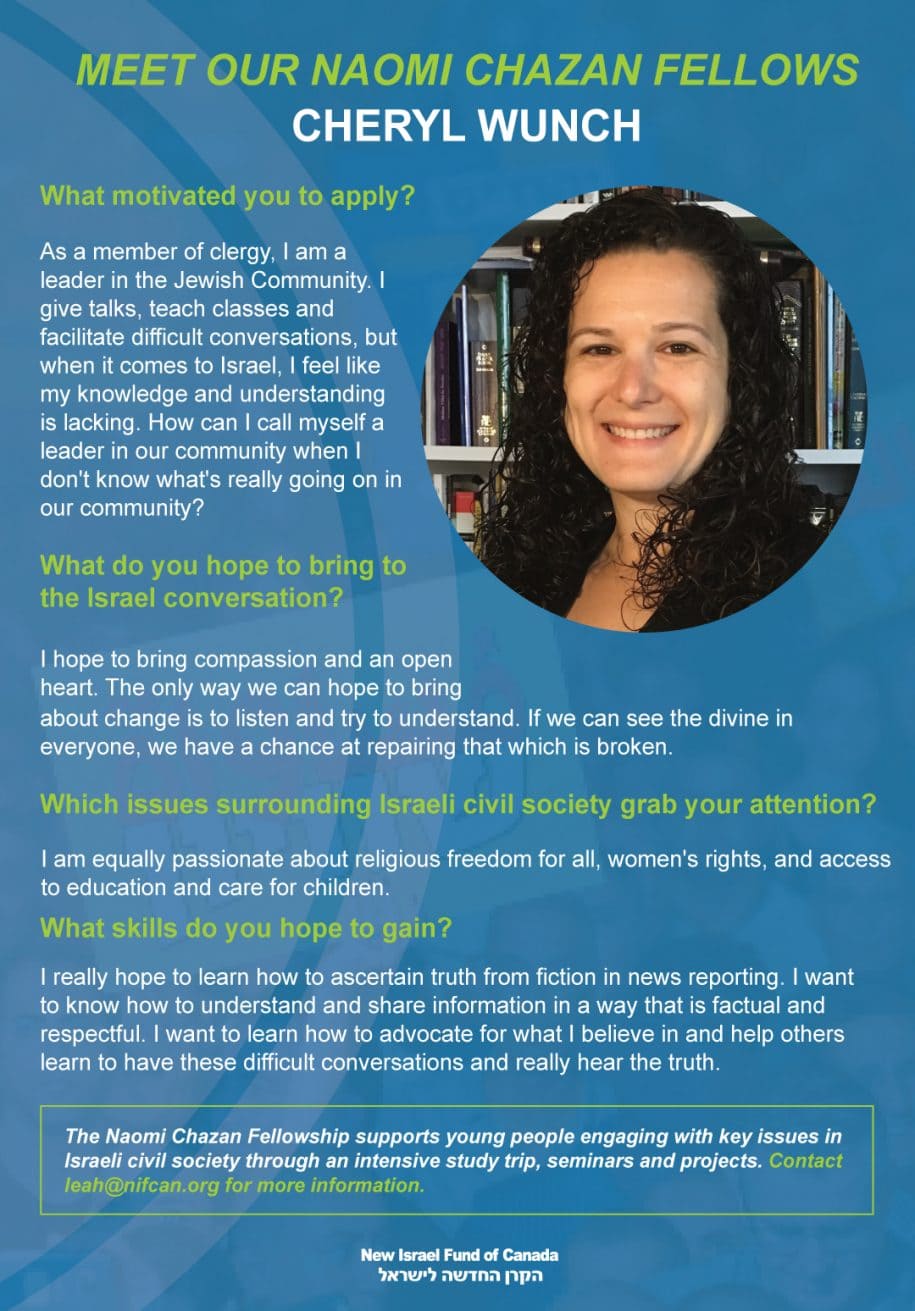 Cheryl Wunch grew up in Toronto and earned her bachelor's degree from Queen's University.  She continued on to study Child and Youth Work at Humber College, and earned her Cantorial Ordination and master's degree from the Hebrew Union College in 2011.  She has since served congregations in the US, the UK and Canada. Before attending seminary, she worked in classrooms, youth shelters, and group homes advocating for children and teens with a variety of educational, developmental, and behavioural needs, and for women who have suffered abuse.  Currently, Cantor Wunch serves on the Ethics Committee of the American Conference of Cantors as well as the Women in the Cantorate Taskforce, fighting for equality, religious freedom, and high ethical standards within her field.
Our Alumni
These fellows have now become part of a growing global network of young Jewish progressives who share a passion for equality and social justice in Israel.
2018-2019 Fellows
We are indebted to our inaugural 2018-2019 Fellows for their enthusiasm to be the first cohort of young Canadians to join this global initiative.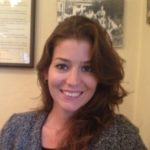 Rachel Shenhav-Goldberg immigrated to Canada after growing up in Israel. She is currently finishing her second year of post doctoral work at the University of Toronto. She received a BSW, MSW, and PhD in Social Work from Tel Aviv University. Her research focuses on anti-racism in Israel and anti-semitism in North America. In Israel, Shenhav-Goldberg was deeply engaged in promoting social change. She worked as a social worker with young, at-risk girls and with children in boarding schools. She is a certified group facilitator and has facilitated communication groups for Jews and Arabs, as well as therapeutic groups. She has instructed teachers on how to deal with racism in the classroom. Her volunteer work has included work in a rape crisis center in Israel and the counselling of at-risk, adolescent girls.
Jacob Shuster graduated from the University of Toronto with a degree in Political Science and History. He is currently completing a master's degree in History at the University of Windsor. He is deeply passionate about refugee issues, and has worked on numerous projects helping refugees from Eritrea and Sudan in Israel, and with Syrian students, through the Toronto organization COSTI. He recently completed an internship with the United States Consulate General, where he was involved in organizing cultural events and promoting bilateral exchanges between the U.S. and Canada. In his spare time, he enjoys travelling and learning languages. He knows Russian, German and some Japanese. Shuster is excited to be a fellow with the New Israel Fund of Canada, and to become more involved in human rights issues in Israel.
Sterling Stutz is a community builder, organizer and educator from Toronto whose work is rooted in the Jewish principles of tzedek and tikkun olam. She has an Honours Bachelor of Arts in Health and Environmental Studies from York University, Glendon College. Currently, Stutz is the development and operations manager at MAZON Canada and a B'nai Mitzvah teacher at the Morris Winchevsky Sunday School. Stutz is also a leader with IfNotNow Toronto and an educator who facilitates workshops and discussions on a broad range of topics, especially the responsibility of the Canadian Jewish community to engage in the work of reconciliation with Indigenous communities. Stutz is committed to participating in and facilitating complex community discussions. She believes in the power of communities to create meaningful and lasting change.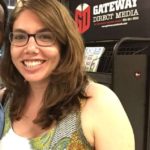 Enbal Singer studied political science and Canadian Ethnic and Racial Studies at McGill University. She is entering her final year of law school at the University of Toronto, where she received extensive training in social justice advocacy through its International Human Rights Program. Singer has been involved in refugee advocacy in Canada through the Canadian Council for Refugees and the Canadian Association of Refugee Lawyers. She was previously an NIF/Shatil Social Justice Fellow and was involved with the New Israel Fund of Canada's African asylum seeker campaign. Singer is inspired by her grandparents' Holocaust survival stories to advocate for African asylum seekers in Israel, and she has been doing so since 2010. She is looking forward to working with the fellowship cohort on this pressing issue, and to holding Israel accountable to its commitment under the UN Refugee Convention. She previously worked in Israel at the African Refugee Development Center and Workers Hotline (Kav LaOved). In her free time, she likes to cook, bake, and try to exercise.
---
The Naomi Chazan Fellowship is a year-long global program that begins with a subsidized, ten-day study tour in Israel with two dozen changemakers in their 20s and 30s from Canada, the UK, Australia, and the US.
Fellows join an immersive experience to explore social issues in Israel and the Occupied Territories, then return home and work to engage their home communities on these issues, take part in leadership seminars, and become part of a global network of young Jewish progressives.