Reflecting on Tisha B'Av and Present-Day Jerusalem: The Use and Abuse of Jewish Heritage
9 August 2022 @ 12:00 pm

-

1:00 pm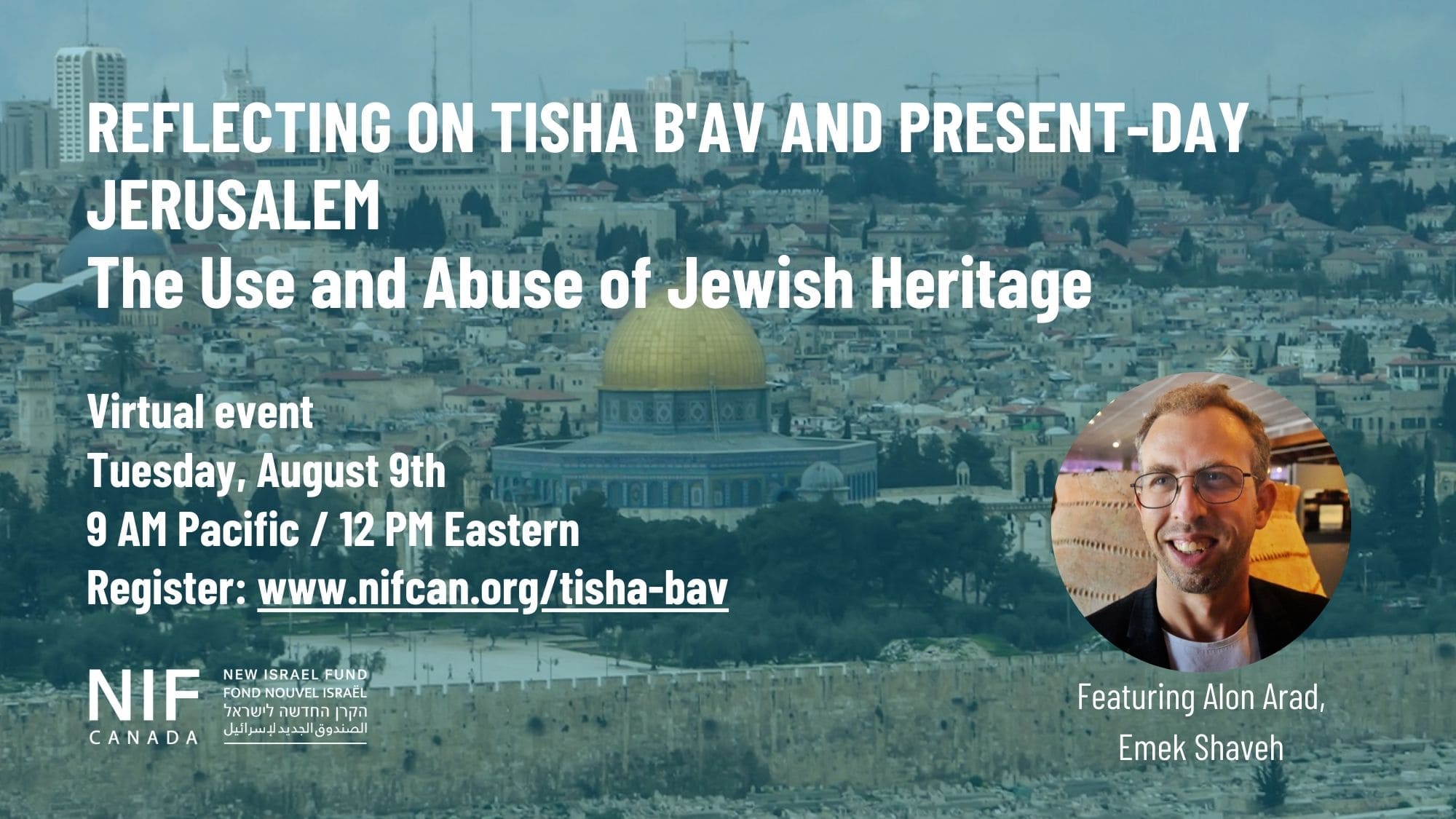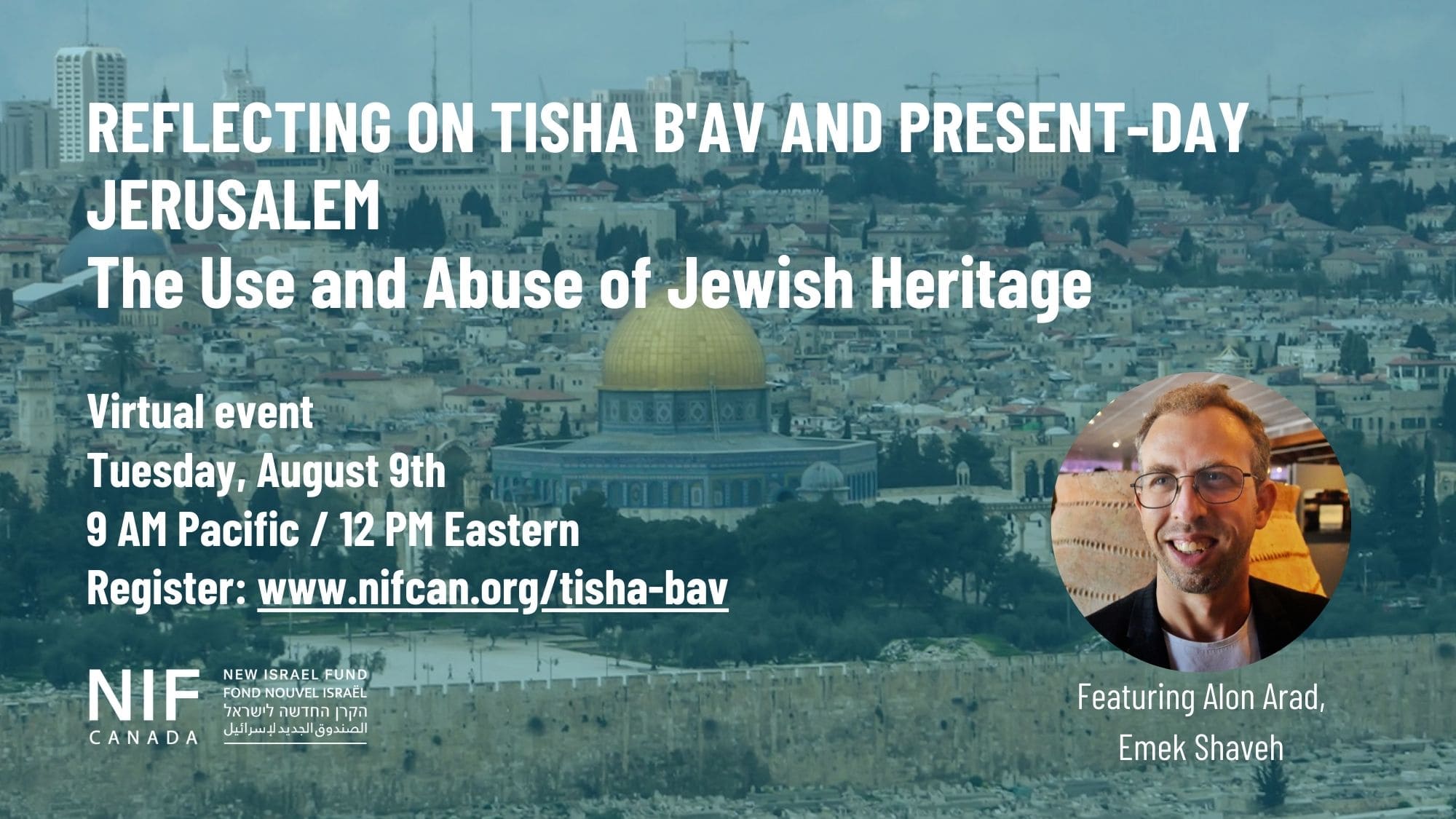 Over the past year, Jerusalem has been simmering with tensions and periodic violence. Especially concerning are acts by Jewish extremists to dispossess Palestinians of their homes, as well as attacks on Reform and Conservative Jews, invoking exclusive heritage over Jerusalem.
Each Tisha B'Av, Jewish communities mourn the destruction of the Temple. The rabbis of the Talmud blamed the event on sinat chinam – "baseless hatred" – and prescribed a day of reflection on ending hatred.
Join us on August 9th as we reflect upon Tisha B'Av's past and present with Alon Arad, Executive Director of Emek Shaveh, an Israeli NGO of archaeologists who fight the politicization of archaeology in the context of the Israeli-Palestinian conflict. We will discuss:
Where are Jewish claims to exclusivity over Jerusalem fueling sinat chinam?
How can we recognize Jerusalem's multi-cultural heritage – and share it with others?
What is being done to prevent the abuse of archaeological heritage sites?
Advance registration is required below.
Co-sponsored by: ARZA Canada, Canadian Friends of Peace Now, and Shaarei-Beth El Congregation.

About Our Speaker:
Alon Arad is the Executive Director of Emek Shaveh. Alon studied archaeology in Tel Aviv University. During his studies he researched the Early Bronze Age and focused on ancient urbanism and immigration. During the last few years Alon has worked for a strategic consulting company specializing in crisis management and conflict negotiation. In January 2022, Alon began his term as Director of Emek Shaveh. Alon grew up in Tel Aviv. He is married to a physician, raising two daughters and a dog. Read his profile here.

Opening Remarks:
Devon Spier is a rabbinical student at the Academy for Jewish Religion (NY);  She is a digital design theologian (theologian of digital images, poems and prose), bestselling poet and has served as the Liturgist-in-Residence for the National Havurah Committee.

About Us: 
New Israel Fund of Canada: Since 1986, the New Israel Fund of Canada has contributed over $10 million to more than 100 organizations in Israel that fight for socio-economic equality, religious freedom, civil and human rights, shared society and anti-racism, Palestinian citizens, and democracy itself.
Emek Shaveh is an Israeli NGO working to defend cultural heritage rights and to protect ancient sites as public assets that belong to members of all communities, faiths and peoples. We object to the fact that the ruins of the past have become a political battering tool in the Israeli-Palestinian conflict and work to defend those communities living in the vicinity of archaeological sites that have been detrimentally impacted by excavations and development work. Our work focuses on Jerusalem's Historic Basin (Old City Basin), the West Bank and on sites in mixed cities inside the Green Line.