An Israel at Peace with Itself: Solutions to Racism and Inequality (Ottawa)
16 June 2022 @ 7:00 pm

-

8:30 pm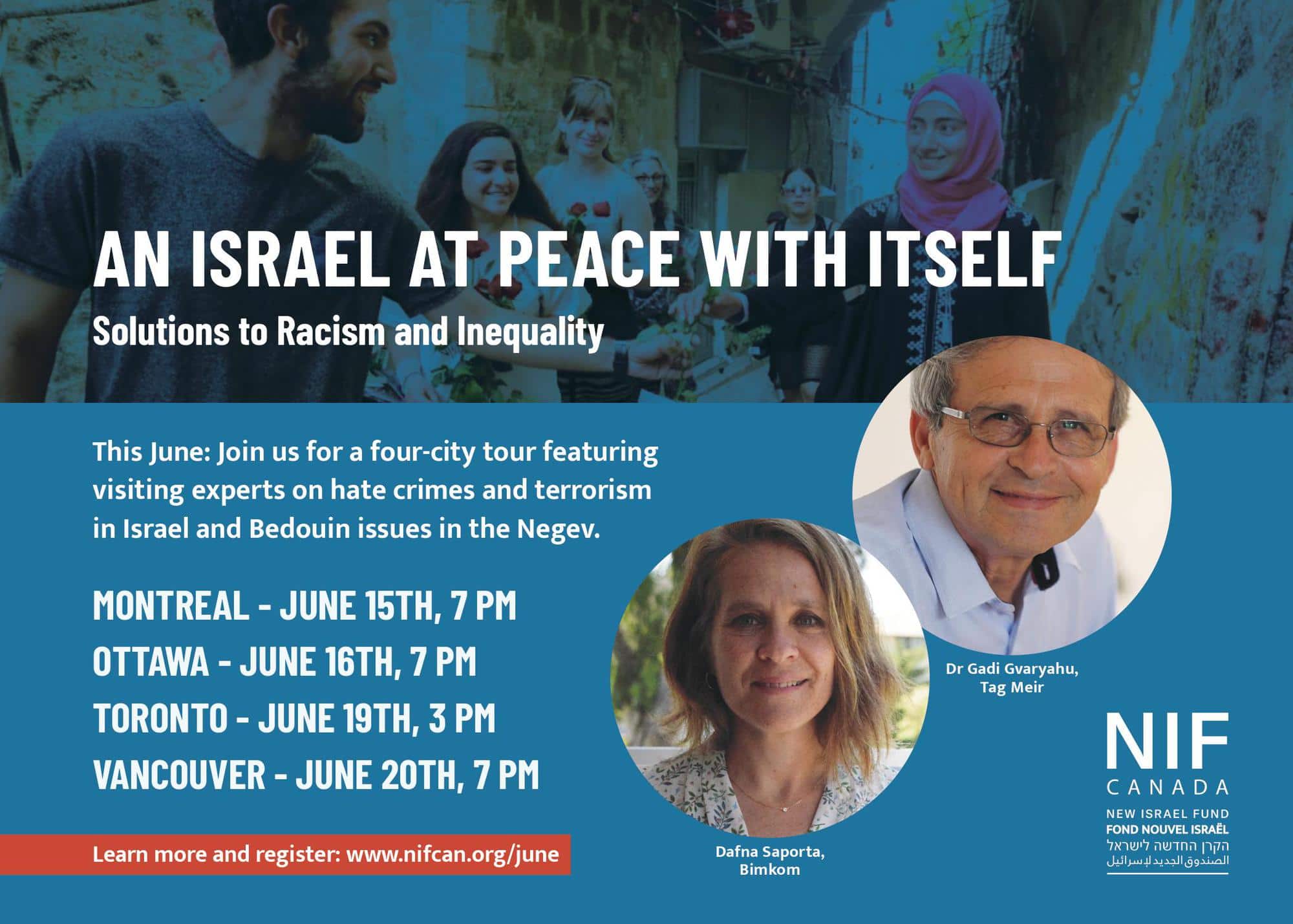 One year ago, citizens of Israel — both Jewish and Palestinian — attacked each other in the streets, exposing deep-running animosities within society. To many of us, this came not as a surprise but as a consequence of years of inequality and racism.
In the year since, the underlying issues remain. We've seen violent dispersals of Bedouin protests, Jewish extremism, and deadly terrorism. But we've also seen important changes – and a government that includes Palestinians for the first time.
What's happened since May of last year?
What are the underlying issues?
What is the impact of Israel's new government?
How do you combat extremism within Israeli society?
Join us in person to hear from two NIFC-funded experts: Dr. Gadi Gvaryahu of Tag Meir, a coalition of 48 organizations combating hate crimes and terrorism in Israel; and Dafna Saporta of Bimkom – Planners for Planning Rights, which fights for equal public services for Bedouin villages.
Advance registration is required. Please fill out the form below to register.
About our Speakers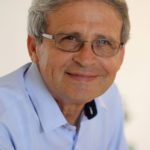 Dr. Gadi Gvaryahu established the 12 Heshvan organization, following the assassination of Prime Minister Yitzchak Rabin.  The NGO is named for the anniversary of that assassination.  He began the NGO with the establishment of the Yitzhak Rabin Memorial Synagogue in Rehovot, where Gvaryahu resides.  In addition, he initiated the founding of a number of middle schools and high schools that promote academic excellence along with moderate, pluralistic and democratic religious Zionism.  For the years since then, Dr. Gvaryahu, an Orthodox Zionist has been fighting religious extremism in Israel.  He founded Tag Meir (Light Tag Forum), in order to counter the darkness of " Price Tag" attacks, with light and goodness.  The Forum now includes 49 organizations from various worlds that compose the complexity of Israeli society. Gvaryahu holds a Ph.D, from the Hebrew University of Jerusalem, in Animal Physiology and Behavior. In addition to his social entrepreneurship, serves as a consultant for poultry breeders and farmers throughout Israel.
Tag Meir (Light Tag Forum) is a coalition comprised of 48 organizations from across the religious-secular spectrum that works to combat "price tag" attacks and hate crimes.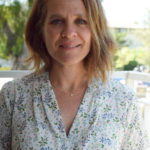 Dafna Saporta, Architect. Arab/Bedouin Department Head: Dafna has worked at Bimkom since 2012  and specifically with the Bedouin communities since 2018. She coordinates all aspects of the Negev project including work with communities, and vis-à-vis decision makers.
Bimkom – Planners for Planning Rights strengthens democracy and human rights in the field of special planning and housing policies in the Negev. Bimkom employs municipal planners, architects, geographers, engineers, and legal advisors to provide professional assistance to unrecognized Bedouin villages.
The New Israel Fund of Canada mobilizes Canadian Jews and other supporters to advance our vision through raising funds for projects in Israel and areas under its authority and through educating and engaging the public on the critical issues facing Israeli society.
Health and Safety Information:
This event requires full vaccination. You will be contacted after registration to confirm your vaccination status.
Masks are required.
If you have any questions about our COVID-19 protocols, please contact Hannah Cohen at hannah@nifcan.org
Please click here for the venue's accessibility details (scroll to bottom of page).