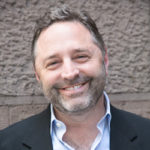 By Daniel Sokatch, CEO of New Israel Fund
This past Monday, the New Israel Fund, together with Israel's leading daily newspaper Haaretz, hosted its annual Conference for Democracy. It's always a special event, bringing together Israel's best leaders and thinkers. But this year, it was a real blockbuster.
For the first time in the history of the conference, we hosted a sitting prime minister — Prime Minister Yair Lapid — along with other party leaders from across the left and center, including Zehava Galon, Merav Michaeli, Benny Gantz, and Ayman Odeh. But perhaps the most exciting speaker of all was a surprise appearance by Ukrainian President Volodymyr Zelenskyy, who joined us by video to discuss the relationship between Ukraine and Israel. That Zelenskyy – the preeminent and most courageous leader in the global pushback against authoritarianism would take the time to address an NIF-Haaretz conference is an awesome and humbling commentary on the role that both NIF and Haaretz play in the vanguard of the pushback against authoritarian threats to Israeli democracy.
And throughout the day, speaker after speaker emphasized those very real threats to Israeli democracy.
And indeed, democracy itself is at stake when Israelis go to the polls on Tuesday. In Israel's fifth election in under four years, it's unclear whether Benjamin Netanyahu will return to office, powered by his far-right, avowedly homophobic, Jewish supremacist, Kahanist allies, or if the "rak lo Bibi" (just not Bibi) coalition of parties across the political spectrum can, once again, cobble together enough seats for a majority. And, of course, there's the very real possibility that no coalition can be formed and Israel will go into its sixth election season since 2019.
With many parties hovering around the electoral threshold needed to enter the Knesset in recent polls, it's more difficult than ever to predict what the outcome will be and who will tip the scales in coalition-building.
The New Israel Fund doesn't fund any initiatives that support or oppose specific candidates and parties. But we're proud to support nonpartisan efforts to get-out-the-vote (GOTV) among populations that are historically underrepresented in voting, including Arab communities in Israel.
In particular, I want to highlight the work of Qadaya, an initiative that grew out of NIF partner the Arab Center for Alternative Planning in 2020. Qadaya works to develop leaders and mobilize communities through organizing among Arab citizens of Israel. In advance of the election, they're working hard to increase voter turnout in Arab communities in Israel in the face of high levels of voter apathy.
NIF partners FakeReporter, Mehazkim, and Citizens' HQ are all working to combat misinformation on social media and in the news. Meanwhile, partners like Omdim Beyachad (Standing Together) are putting the most pressing issues facing Israelis on the public agenda, as inflation and economic inequality reach all-time highs in Israel.
But as Israel enters the final stretch of the campaign, one issue has remained largely absent from the campaign trail: the occupation and settlement enterprise, and the rapidly rising rates of violence in the West Bank.
Over a 10-day period earlier this month, settlers carried out at least 100 violent attacks against Palestinians, Israeli activists, and soldiers. NIF partner Yesh Din released a video of Israeli soldiers aiding settlers as they violently attacked Palestinians as they harvested olives in the West Bank. In a gruesome scene caught on tape, settlers pushed a 70-year-old Israeli activist to the ground and beat her with a club, sending her to the hospital. Israeli security officials appear to be uninterested in apprehending her attackers.
At the same time, the Israeli military has ramped up the intensity of its operations against armed Palestinian groups in the West Bank, especially Lion's Den, a violent militant group that has recently risen to prominence for carrying out lethal attacks against soldiers and settlers in the occupied territories. In response, since October 12, Israel has virtually shut down Nablus, the second-largest city in the West Bank. This has only fed increased frustration among Palestinians in the West Bank.
But any recognition that the occupation, and the settler and state violence that inherently come with it, are part of the current cycle of violence that has largely been absent from public discourse in the run-up to the election next Tuesday.
That's why the New Israel Fund and our partners, including Breaking the Silence, Association for Civil Rights in Israel (ACRI), and Yesh Din will continue to put the occupation on the public agenda and work towards a day when Israel's leaders have the political will to end it.
Hear from two members of Breaking the Silence live in Toronto on November 22nd
Much is at stake on Tuesday in Israel — a cost of living and housing crisis that has spiralled out of control, shrinking democratic space, and equality for Israel's Arab citizens — all things that the New Israel Fund has consistently worked on and will continue to work on regardless of the outcome.
But no matter the outcome of the election, our partners will continue to work for the better future for all that we know is not only possible, but necessary. Our work towards that future is not tied to elections; it is about long-term societal change. As I've said before and I'll say again, it is a marathon not a sprint. And NIF will be here today, tomorrow, and for the coming years, always working for justice, equality, democracy, and peace — for an Israel that proudly lives up to its founding values.