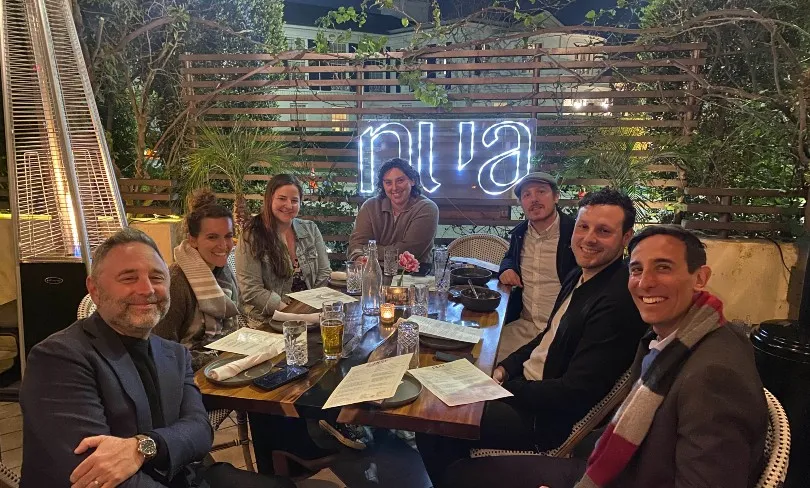 We are thrilled to introduce you to the 2023-2024 Elissa Froman Social Change Fellowship cohort in Los Angeles! This year's group includes students studying at Conservative as well as Reform rabbinical schools. They bring a range of experiences to the fellowship. Some are coming to us from in-depth on-the-ground activism in Israel and the Occupied Territories, others are alumni of other NIF fellowships. Most, like so many of us, have more questions than answers about the situation in the region today.
Read the fellows' bios below and join us in welcoming them all as they begin their journeys to becoming fluent and effective rabbinical ambassadors for progressive change in Israel/Palestine.
Hannah Bender, a 5th year rabbinical student at HUC-JIR LA, has been deeply engaged in the progressive Jewish community their entire life. Their extensive involvement spans organizations like Hashomer Hatzair, T'ruah, All That's Left, Center for Jewish Nonviolence, Institute for Democratic Education in America, Black Lives Matter,  and the Reform movement. They have lived in and traveled through Israel and the Occupied Palestinian Territories, from NFTY EIE to studying at the University of Haifa, a year at the Conservative Yeshiva as a Lishma Fellow, and a transformative year as a first-year rabbinical student as a Froman Fellow. Hannah holds a BA in Jewish and Religious Studies from the University of Minnesota, Twin Cities.  Hannah's commitment extends to activism with the Center for Jewish Nonviolence and J Street U. They made aliyah to affirm their love for Israel, working with groups like Breaking the Silence and Ir Amim to align actions with values, all with a heartfelt desire to give back to their people and compassionately push them towards actions that truly reflect their shared values. They consider Israel their second home.
Ben Poor, a second-year rabbinical student at HUC-JIR, is deeply engaged in progressive organizations, including IKAR, East Side Jews, and Unite Here Local 11. He has organized for J Street and T'ruah, and advocated for criminal legal reform, immigration reform, and increased school funding in California. He holds a BA in American Studies from Occidental College, and served as the senior synagogue organizer to the Jewish Community Relations Council (JCRC) of Boston. Ben's connection to Israel and the Occupied Palestinian Territories began with Birthright, extending to a tour of Hebron with Breaking the Silence. As a Froman fellow in HUC's Year in Israel program, he collaborated with leaders in Arab society, explored Mizrahi Feminism, and promoted Jewish-Arab solidarity movements. Ben is dedicated to bridging communities and plans to leverage his rabbinical journey to create meaningful connections.
Jacki Honig, a rabbinical student in her penultimate year at the Ziegler School for Rabbinic Studies at the American Jewish University, brings a wealth of experience and a passion for social justice to her path in rabbinical studies. She's been a member and former intern at Temple Beth Am, Los Angeles, and served as a USY regional director. Currently, as the Social Justice Project Manager for the Rabbinical Assembly – the rabbinic union of the Conservative movement – she is committed to being a change maker in the movement, especially making Jewish spaces safer for the LGBTQ+ community.  She holds a bachelor's degree in Business Administration and Management from the University of Nevada, Las Vegas. Jacki's Israel journey, from Birthright to her recent studies at the Conservative Yeshiva, has deepened her understanding of the complexities in the region. Her year-long stay in Jerusalem fueled her desire to contribute to progressive social change in Israel. Her unique blend of spreadsheet expertise and Talmudic knowledge drives her mission to bridge the logical and the heart in her work.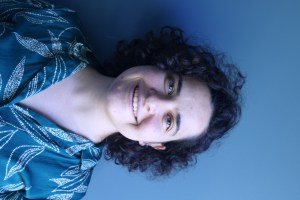 Eden Glaser, is in her 5th year of rabbinical school at HUC-JIR, and is eager to embark on the Froman Fellowship.  Eden holds a BA in Jewish Studies with a minor in Biological Sciences from Smith College. Although Eden couldn't undertake a year in Israel during rabbinical school due to the pandemic, she yearns for a deeper, morally and spiritually grounded connection with Israel, Palestine, and the region's inhabitants. Her previous travels to Israel, including a transformative visit to the Shalom Hartman Institute, have left her craving nuance, love, and critique. Eden has been a student rabbi at Congregation Beth Jacob in El Centro, California and an intern at the Shoah Foundation Institute. Eden sees this fellowship as a vital opportunity to foster meaningful connections and join a cohort of clergy students ready to bring the complexities of Israel/Palestine to the pulpit and beyond.
Erika Purdy, a third-year rabbinical student at HUC-JIR, is deeply engaged in progressive Jewish communities and passionate about social justice.  She holds a Master of Liberal Studies, Human Rights and Genocide from Southern Methodist University, and a BA in Political Science and French from University of Texas at Arlington. Erika has been actively involved with IKAR, New Israel Fund, and T'ruah, advocating for refugee resettlement, voter and election protection, and abortion rights. Erika's connection to Israel spans three trips, including a transformative experience living and working in Israel for a year as a Naomi Chazan Social Activism Fellow with the New Israel Fund. She again lived in Israel during her first year of Rabbinical school, where she delved into the complexities of social change organizations and explored Mizrahi and Palestinian rights. Erika's dedication to Shared Society and Human Rights and Democracy reflects her commitment to helping others embrace Judaism and fostering positive change.
Elana Ackerman Hirsch, currently in her 5th year of rabbinical studies at HUC-JIR, is deeply committed to promoting greater equity in Israel. Elana holds a Bachelor of Science in Natural Science, from the University of Puget Sound. She has actively volunteered with the Democratic Socialists of America, focusing particularly on their initiatives to support unions in Los Angeles. Elana's journey in Israel began with her participation in Birthright in 2015, followed by a transformative experience as a Masa English Teaching Fellow. During this time, she resided in Rehovot and extensively explored both Israel and the occupied Palestinian territories. Elana's passion for fostering a more equitable Israel was further ignited during her role as a preschool teacher at the JCC in San Francisco, which inspired her to continue her Jewish professional journey through rabbinical studies. Her dedication persisted through her participation in an iCenter fellowship, engagement in T'ruah programs, visits to Bethlehem, and learning from Roots/Shorashim. Elana's love for Israel drives her ambition to contribute to its democratization and equity, and she aspires to connect with like-minded individuals pursuing the same goal through this fellowship opportunity.