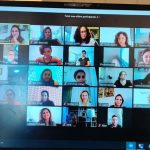 Shatil has created its first ever Zoom course around strategies of community building to help social change organizations thrive and expand. One might assume that business and social change models are worlds apart, but there are business models that can be used to serve the world of social change organizations.
Businesses have always taken advantage of people's search for meaning and connection by creating "communities" based on their products and services. In this era of delegitimization and isolation of social change organizations, coupled with an unstable philanthropic reality, Shatil adapted this business model to the needs of those fighting for democracy, shared society and social justice in Israel.
We call it "community building," and in 2017, held our first pilot course – "From Audience to Community: Strategies and Tools for Increasing Public Support," in which we introduced the concept – and the need – to social change organizations and helped them build the skills and strategies to increase support for their organizations.
According to the community building methodology, organizations need to see their staff, supporters, activists, partners, and funders as members of a single community, whose backing is vital to the organizations' strength, effectiveness, and sustainability. After holding a second course, on June 24, we launched Shatil's first ever full Zoom course, "Cultivating Community for Social Change Organizations".
Of nearly 100 applicants, Shatil chose the 24 most promising candidates and launched the 1-hour, six-session course, aimed at people who are community managers – a relatively new position in the social change world – in their organization. The course provided practical and innovative tools for cultivating active support among current and potential advocates, partners, and funders. Shatil staff had to be particularly creative to develop an online training that remained engaging throughout. Zoom meetings were complemented by individual guidance, homework assignments, films, and readings to tailor the course content to the specific needs of the organization.
"One of the things we learned was how important it is to listen to and learn from our volunteers and activists – and to do this by asking specific questions in a way that gives us real answers about their experiences," said Mor Efrat, who will be managing the community at Physicians for Human Rights Israel (PHRI), an NIFC funded project.
"At PHRI, we've been working with volunteers for 30 years, but it never occurred to us to do a survey to find out what their experience is like, how they feel about it, how satisfied they are and if they left, why they left. The course opened our eyes to how much we can learn from such a survey. We also learned to examine what value being active in our organization gives people. We never did that either. As an assignment for the course, I had a conversation with a former volunteer who today manages a health fund clinic. I discovered that he learned the skills he needs for his current job by volunteering at PHRI. I learned that while someone might feel passionate about human rights, learning a professional skill – or having contact with other people – is much more of a motivator for getting someone out of the house on his free day."
Participants' responses were unanimously positive. Lively, relevant, and fun were some of the words used. Said one participant: "During the course, I opened a Facebook account and page and started working on a web site. Suddenly, our organization is growing!" Said another, "I teach about community but it's theoretical. I had to experience the spirit of this course in order to understand what community is." And a third said, "You gave me the tools and motivation I wouldn't have gotten in any other place."
Shatil will follow up with monthly peer learning meetings with the graduates of this and our first two community-building courses.