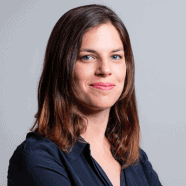 By Libby Lenkinski, New Israel Fund VP of Public Engagement
Things are happening in Israel that I've never seen before.
On Saturday night, July 25 – and again on this past Saturday – I went to join the protests in Balfour Street, Jerusalem, in front of the Prime Minister's residence.
The scale of this civic mobilization is spectacular. The media is reporting that last Saturday night's protests brought as many as thirty thousand Israelis into the streets. Hundreds, if not thousands, of people were first-time activists, many who had never been to a demonstration before.
I've been to my fair share of protests in Israel and the West Bank, and this was really different. 
I was gobsmacked by the energy and creativity. It felt like a spontaneous festival. Balfour Street on Saturday was happening — and it was totally grassroots. Nothing was choreographed. There was no stage with formal speakers, organizers, or microphones.
The major thrust of this mobilization is anti-corruption rage directed at the prime minister, a man who has been indicted on three counts of corruption – yet who is determined to stay in power even as he faces trial. There is pent up, righteous anger from huge swaths of the public. They are angry at a government that is "out of touch," and which has bungled its response to the coronavirus pandemic.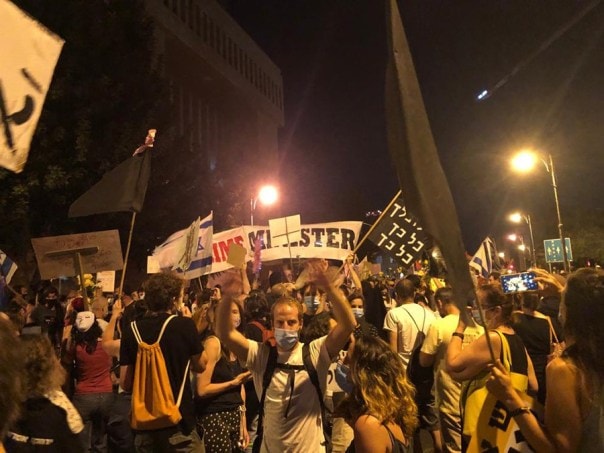 About one million Israelis are unemployed while coronavirus cases are skyrocketing, in what experts are calling a second wave of the virus. People are feeling terrified about the future. It's palpable and it's across the board.
As activists and organizers, we were always taught to unify the message, to be clear about specific demands. But the protests on Balfour are exactly the opposite – and it's beautiful.
Last week, I saw hundreds of handmade signs, ranging from a huge banner saying, "Justice for Solomon, Justice for Eyad," to a poster that read, "Where are women in the management of this crisis?" I saw hand-scrawled signs by Mizrahi Israelis and former Likud voters fed up with government corruption and neglect. I saw Hebrew, Arabic, Amharic, Russian, English, emoji and more.
This is in some way the opposite of a unified message. At the same time, it does come together as a core call, exemplified by the popular chant: "An entire generation demands a future."
The truth is, there isn't one single epicenter of this moment. It's a coalescing of a thousand voices demanding change. There have been a bunch of grassroots groups that have centered on the fact that Netanyahu is the first sitting prime minister to be indicted for criminal offenses while in office. Their organizing – under the banner of "Crime Minister" – is not new. What is new is the scale and the pitch of the call right now.
Once Israelis started realizing just how epically the Netanyahu government has mishandled the coronavirus outbreak and the economic slump, and how many lives it has put at risk as a result, their genuine rage and fear spilled into the streets.
These protests are about that rage. It's not just about the corruption. It's about the disconnect from the experiences of the vast majority of Israelis who are hurting and scared.
As the protests have grown in size and volume, the government has cracked down on peaceful protesters with water cannons, detentions, and false accusations and incitement. The prime minister, maligned the popular protests as "an attempt, in the name of democracy, to trample democracy." His son, Yair, doxxed prominent protest leaders, tweeting out their home addresses and cellphone numbers, and bizarrely dismissed the Israelis standing up for democracy "aliens" and worse.
Netanyahu and his hardline allies have unsuccessfully tried to paint the protests as manufactured, inauthentic, an invention of the Ashkenazi elite or fomented by foreign interests. But this is belied by the demonstrations' sheer size, by their diversity, and the variety of the messages being scrawled on cardboard signs.
On Saturday night, I saw younger anti-occupation activists bringing in the call for "Justice for Eyad," referring to Eyad Hallaq, the young, unarmed, autistic Palestinian man who was shot dead by the Israeli police the same week as George Floyd. Activists involved in the massive, nation-wide protests against police brutality led by Ethiopian Israelis in 2018 were here too, holding signs with the face of Solomon Teka, the young Israeli man of Ethiopian descent shot to death by an off-duty policeman last year. MK Ayman Odeh, the leader of the Joint List, came both weeks to say that Arabs and Jews are standing together to support the call for democracy and against racism and corruption.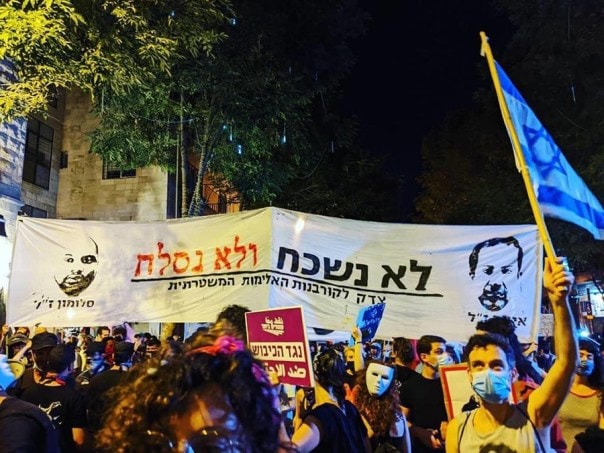 But it was not just political leaders. There were older women wearing traffic vests with the word "imma" (mother) written on them, offering support to activists experiencing trauma and placing themselves between police and protesters. I saw new-age hippies offering free hugs, massages, and love. I saw hundreds of Israelis sitting quietly in meditation, protesting through the powerful force of stillness. And then there were so many feminists.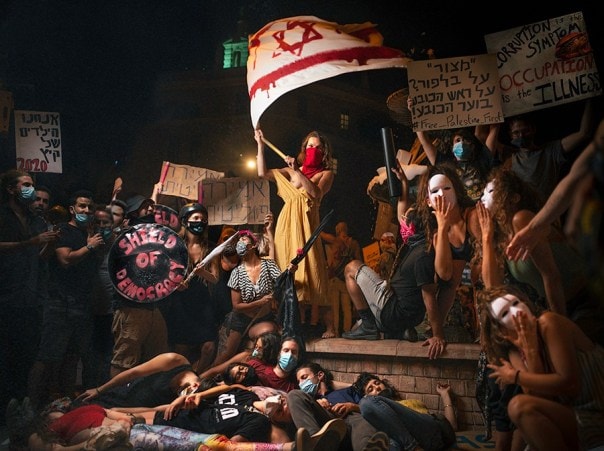 Women have been leading this protest in powerful, intersectional ways. Israeli social workers (who are predominantly women and who have gone on strike for higher wages and emergency relief during the pandemic) are going topless in order to get their messages heard.
Unsurprisingly, I saw my dear New Israel Fund colleagues out on Balfour Street, standing, masked – as citizens – against corruption and for justice, fairness, and a better future.
Weaving through the crowd, I saw pieces of all of these struggles for justice and equality in Israel beginning to come together. A feeling of a national awakening was palpable, there was even a sign that said, "awakening is addictive". In the air, there was that essential ingredient of change: that electricity that comes with the recognition that something different is possible.
It's too early to tell whether this breakthrough moment will produce significant political change. But what is beyond clear to me, is that change is going to take all of us, in solidarity with one another – the kind of solidarity of struggles that I saw on Balfour Street – between Jewish and Arab citizens of Israel, LGTBQ and straight, men and women, those living under occupation, those fighting for a decent wage and good government.
In the car back to Tel Aviv, my friends and I talked about what we saw. Moving between the buzzing energy of the night and our exhaustion, we all agreed that the true beauty of this movement is in its diversity, in its openness, in the mish-mash of identities, calls for action, issues, and backgrounds all coalescing in the public square. And the fact that issues that typically haven't found a place in mainstream moments – like the occupation and the call for equality and justice – were center stage that night.
If there is going to be a democratic future in Israel – it will be animated by the people fighting for what they believe in. That future is something worth fighting for.