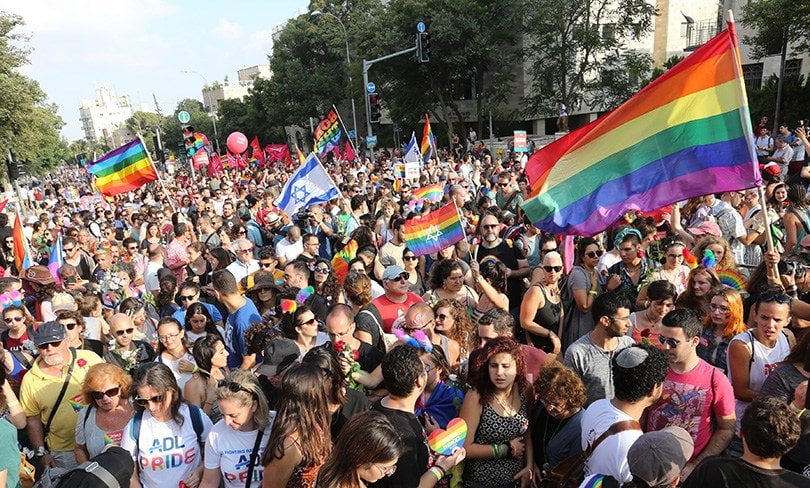 Jerusalem's 18th annual LGBTQ pride parade kicked off on June 6th, with over 10,000 people attending the parade, whose theme was "One Community – Many Faces."
Ever since a fatal stabbing attack in 2015, in which 15-year-old Shira Banki was killed in a homophobic attack, security has been heightened and the parade was secured by over 2,000 police officers.
For the fourth year running, NIFC-funded partner Tag Meir organized a gathering before the parade to pray for peace and the safety of the marchers. Tag Meir is a coalition comprised of 48 organizations from across the religious-secular spectrum that works to combat "price tag" attacks and hate crimes. (See our full list of 2019 projects here.)
Tag Meir's annual event is held annually in memory of Shira Banki. "We gathered to strengthen the members of the gay community who suffer from physical and verbal attacks, including harsh and inflammatory rhetoric from rabbis and other public figures. These words have already proved in the past that they have meaning and power that occasionally have led to bloodshed."
Jerusalem Pride is organized annually by the Jerusalem Open House for Pride and Tolerance, an organization which was seed-funded by the New Israel Fund and which serves the LGBTQ community of Jerusalem. Eran Globus, head of Jerusalem Open House, told Channel 12 news that the march was part of a wider campaign for full equality by the LGBTQ community. "This is not only a struggle for full equality of rights for the gay community but a struggle over Israel's moral image and the red lines we want to place. The Israeli public — from right and left, from all parts of the nation — must not surrender to indifference and abandon the public space to hatred and violence."
The NIF global family has been a long-standing supporter of the parade's main organizing group, the Jerusalem Open House. Their goal is "to make Jerusalem into a city where anyone has the freedom to be themselves and live their lives" and they work for social change on LGBTQ issues "by promoting pluralism and tolerance in Jerusalem". They also provide services to Jerusalem's LGBTQ community, including anonymous HIV testing at the OpenClinic, mental health counselling, educational workshops, and weekly support groups, as well as the yearly pride parade.