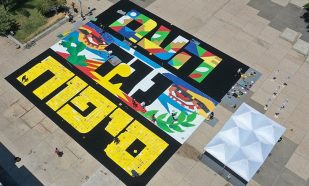 Last Friday, several thousand protestors again rallied against annexation in Tel Aviv in a demonstration organized by several organizations including Omdim Beyachad (Standing Together), a Jewish-Arab grassroots movement which is funded by the NIF global network.
The highlight of the protest was the creation of a huge 10,000 square foot ground mural made up of yellow stickers that said "The People Against Annexation."
According to Prime Minister Benjamin Netanyahu, annexation of parts of the West Bank could have begun as early as July 1. But the day passed without any formal move towards annexation. Opposition to annexation is growing, with increasing pressure from concerned Israelis, world leaders, and people around the world.
The New Israel Fund global network will continue to spread the truth about annexation far and wide and support the grassroots movements fighting against it.