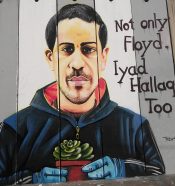 NIFC project partner Tag Meir has launched a petition for the publication of the findings of the investigation into the killing of Eyad Hallaq. In May, Hallaq an unarmed autistic Palestinian man, was shot dead by the Israel Police as he walked to an education center in Jerusalem.
Earlier this month, Israel's Ministry of Justice claimed that the security cameras in the area where Hallaq was shot dead were not working and there is no video footage of the incident. This announcement has raised concerns that the police are concealing evidence. There are at least seven security cameras on the route that 30 year-old Hallaq took between his home and the education center including two near the garbage bins where he died.
The Hallaq family are struggling to grieve while the Israeli Police and the other bodies involved in the investigation are failing to provide answers, says Tag Meir, explaining the importance of signing the petition demanding greater transparency from Israel's authorities.
NIFC will continue to support greater transparency and police accountability in the wake of this grievous injustice.
Photo Credit: Seka Hamed via Flickr