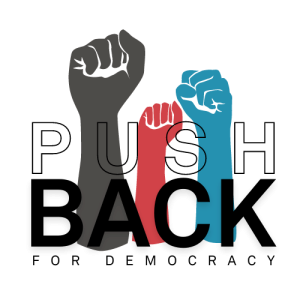 Israel's extremist government is not slowing down – despite 500,000 protestors and wall-to-wall opposition from Israelis of all kinds and diaspora Jewry.
Here in Canada, the majority of Jewish Canadians oppose this government's policies too. Chances are, your friends and family are also worried and seeking ways to help. The vast majority of Canadian Jews agree with you and me that the court overhaul is wrong. But we know that even vast public support doesn't lead to change unless people are connected to action.
We need your help to grow the Canadian movement for Israeli democracy.
Luckily, there's a really simple way to bring your friends and family into this movement: invite them to a conversation that you host about our PUSHBACK FOR DEMOCRACY campaign.
You can either use our discussion guide or invite an NIFC leader to share what's happening. It's that simple.
Sign up below to host a PUSHBACK FOR DEMOCRACY gathering – either in your home or on Zoom – with your friends and family. By attending and signing our pledge, they will officially join the global movement for Israeli democracy.