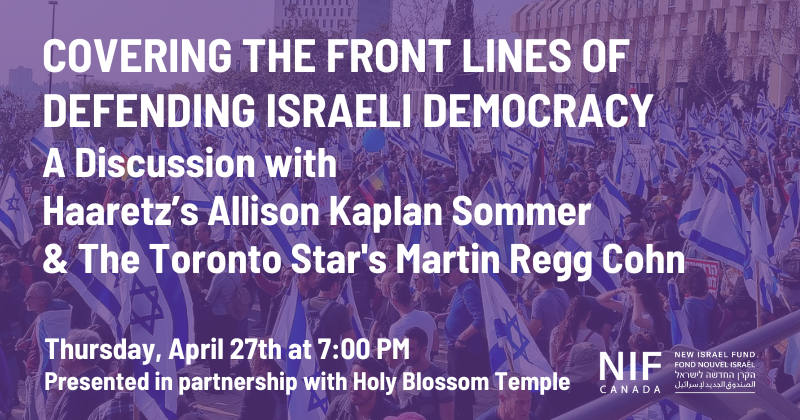 On April 27th, the New Israel Fund of Canada and Holy Blossom Temple were excited to host Allison Kaplan Sommer of Haaretz and Martin Regg Cohn of the Toronto Star to help us understand the latest developments in Israel and the largest protest movement in the country's history. The was moderated by Esther Enkin.
Watch the recording below, full speaker bios at bottom.
About Us
The New Israel Fund of Canada protects and advances democracy and equality in Israel. Since 1986, NIFC has contributed over $10 million to more than 100 organizations in Israel that fight for socio-economic equality, religious freedom, civil and human rights, shared society and anti-racism, Palestinian citizens, and democracy itself.
Learn more about how you too can support Israelis opposing extremism.
About Our Speakers
Allison Kaplan Sommer has been a journalist at Haaretz since 2012, hosts the Haaretz Weekend podcast and is a co-host of The Promised Podcast. She is the former Washington DC bureau chief for the Jerusalem Post, and has also written for the New Republic, Politico, and other publications. She won a B'nai B'rith World Center Award for Journalism for Excellence in Diaspora Reportage and a Simon Rockower award for excellence in covering Zionism, Aliyah and Israel. Originally from Rhode Island in the US, she has lived in Israel since 1993. Most importantly, her daughter Tamar is a 2023 Toronto Shinshinit!
Martin Regg Cohn is a political columnist for the Toronto Star, Canada's largest daily newspaper, writing on domestic and international issues. A foreign correspondent for 11 years, he ran the Star's Middle East and Asia bureaus, reporting from more than 40 countries — ranging from Afghanistan to Yemen. He was also Foreign Editor, a world affairs columnist, and covered national politics from Ottawa. Nominated five times for the National Newspaper Award, he also received an Asia Pacific Foundation of Canada fellowship to research Islam in Indonesia, and won the Amnesty International Media Award for his coverage from Sudan. He is a Visiting Practitioner in the Faculty of Arts at Toronto Metropolitan University, where he founded the Democracy Forum at TMU. He is also a Senior Fellow at the University of Toronto's Munk School of Global Affairs and Public Policy, and has lectured for New York Times Journeys across the Middle East. He studied economics at King's College and Dalhousie University.
Esther Enkin, now retired, was Ombudsperson for the Canadian Broadcasting Corporation for six years.  She has served as President of the Organization of News Ombudsmen  and Standards Editors, an international forum with members on six continents.  She is also Vice-President of the Canadian Journalism Forum on Violence and Trauma.  In the course of her career, she held senior positions in news management, including Executive Editor of CBC News.    She has lectured on journalism ethics and standards at universities and international fora. Before becoming Ombudsperson, Esther led a comprehensive update of CBC's Journalistic Standards and Practices.  She is also the author of a chapter on Ombudsmen in an upcoming book entitled Global Journalism Ethics. Esther has served on the Board and as President of Congregation Darchei Noam, where she remains a committed member and volunteer.