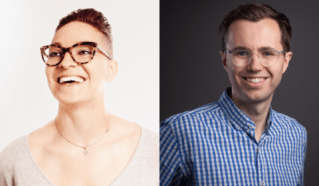 NIFC is pleased to announce the addition of two new leaders to our leadership: Maytal Kowalski and Scott Stirett. Both Maytal and Scott are impressive leaders in their fields who will bring their considerable expertise to our work. Maytal has joined the Communications and Development committees and Scott has joined the Audit and Human Resources committees. Welcome, Maytal and Scott!
Maytal Kowalski is a Canadian-Israeli digital marketing and fundraising strategist, with over 10 years experience working with non-profits and charities within Canada and the US. She began her career as the Production Coordinator for the Al Green Theatre in the Miles Nadal JCC in Toronto, has worked for The Second City, Toronto Symphony Orchestra, and is now the Director of Digital Strategy at Stephen Thomas Ltd in Toronto. Maytal is also a staunch advocate for social justice and equity causes, having volunteered with organizations like Cycle Toronto, and Heart-to-Heart. Maytal started the D&I committee at her work, and has successfully pushed for inclusive holiday time and social events, and an investment in anti-racism training. In addition to her full time job and volunteer work, Maytal is a classically trained dancer, circus performer, dog foster-parent, and pet mom to Sydney the cat and Pezmo the dog.
Scott Stirrett is the Founder/CEO of Venture for Canada (VFC), a national charity that fosters the development of entrepreneurial skills and mindset in young Canadians. In 2020, over 1,300 post-secondary students and recent graduated participated in VFC's work-integrated learning programs from coast to coast. Originally from Dartmouth, Nova Scotia, Scott is a graduate of Georgetown University's School of Foreign Service. Immediately after graduating from Georgetown, Scott worked at Goldman Sachs Inc. in New York City. More recently, Scott was named by the Inspire Awards as the 2018 Telus LGBTQ Innovator of the Year and was recognized on Future of Good's 2019 list of 21 Young Impact Leaders. Scott has contributed to or been featured in The Washington Post, The Globe and Mail, The National Post, Forbes, Future of Good, The Chronicle Herald, and The Georgia Straight. He has also appeared as a commentator on CBC News Network and BNN Bloomberg.