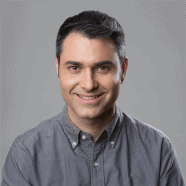 By Mickey Gitzin, Director of the New Israel Fund in Israel
June is a time of joy for the LGBTQ community in Israel – there are parades, costumes, parties, and a lot of fun. Before I took over NIF in Israel, I spent the day on Facebook Live from the Jerusalem Pride parade in 2016. That year, I was overwhelmed and amazed to see more than 30,000 Israelis flock to Jerusalem to march together. It is one of the reasons why, from the outside looking in, things look pretty great.
Over the last number of years, the LGBTQ community has made great strides towards "normalization" in the Israeli public. I remember when Ellyot was the only openly gay woman in the public sphere. We were so proud to support her work this year; it reminds me of how far we have come.
People who are gay and lesbian occupy central places in Israeli society and culture, and often function as unofficial ambassadors for Israel to the world. We have had openly gay government ministers; when the Likud was in power (what a sentence to write!) they appointed a gay Minister of Justice. What's more, a variety of Israeli corporations don rainbow colors for pride. They all want a piece of the LGBTQ pie.
But not all members of the LGBTQ community feel Israel's societal love in the same way.
A parade in Tel Aviv or even in Jerusalem does not necessarily make it easier for a kid in a conservative community to come out of the closet, nor does it reduce the number of times a kid who is out will have the slur "homo" lobbed at him in school. When banks and the hi-tech companies wave their rainbow flags, it does not help trans Israelis who struggle with poverty to pay their bills.
As a gay man in Israel, I believe that the LGBTQ community has an extra layer of obligation to notice and care for those in our community who are left out. We are a minority group that contains many other minority groups.
As our community as a whole becomes less marginal, our obligation to those who have been made more marginal expands. Trans people, LGBTQ Palestinians in Israel and in the Occupied Territories need our support more than ever, but also other groups: Palestinians who live under occupation, people seeking asylum in Israel, and those who struggle to gain access to basic services in Israel's periphery. Though they may not always stand in solidarity with us on other issues, and we may disagree at times, it is our moral duty to look out for them.
What's more, these are not times of safety for members of the LGBTQ community. We have watched a worldwide democratic recession, in which the likes of Viktor Orban of Hungary, Jair Bolsonaro of Brazil, and — yes — former Prime Minister Benjamin Netanyahu of Israel, have run hate-filled campaign after hate-filled campaign attacking anyone who is not like them: immigrants, asylum seekers and the left as well as Muslim Arabs and Jews. These are the kinds of leaders who are not satisfied with xenophobia, national chauvinism and supremacy, but also have set their sights on the LGBTQ community. In Hungary, Poland and Brazil, the LGBTQ community was recently identified by leaders as a dreaded "foreign actor." Just this week, Hungary passed a law (with the frighteningly overwhelming majority of 157-1) that prohibits sharing any content that portrays being gay or transgender.
These anti-democratic regimes have proven that even if their dangerous populist rhetoric does not begin with the LGBTQ community, it certainly can end there.
In Israel, right now, we have a new government. We do not fully know how it will act, especially since its members come from a profound diversity of ideological backgrounds – left, right and center. It appears that this government, despite the good intentions of some of its members, will not advance legislation on behalf of the LGBTQ community — but that does not mean it cannot bring about powerful change.
The new Minister of Health, Nitzan Horowitz, is one of the leaders of the Meretz Party, is a good friend of the New Israel Fund, and is gay himself. He can make changes that will immediately affect LGBTQ lives for the better. He can help abolish the abomination known as "conversion therapy," which purports to help LGBTQ youth "turn straight," which has an unfortunately widespread operation in Israel. He can advance the rights of the trans community, by offering health services and specialized care as well as working to reduce the far-too prevalent violence against trans people.
This is just one example of how the LGBTQ community in Israel can go beyond the pretty — albeit surface level — delights of pride month, and develop both an internal and an external sense of solidarity.
That is how we can help each other and other marginalized communities work towards democracy, equality and justice for all.
And it is why we believe it is so important to support advocacy and lobbying efforts, especially with this new government, to make sure that no one is left behind.