Defining Israel's Pro-Democracy Movement
October 11 @ 7:00 pm

-

9:00 pm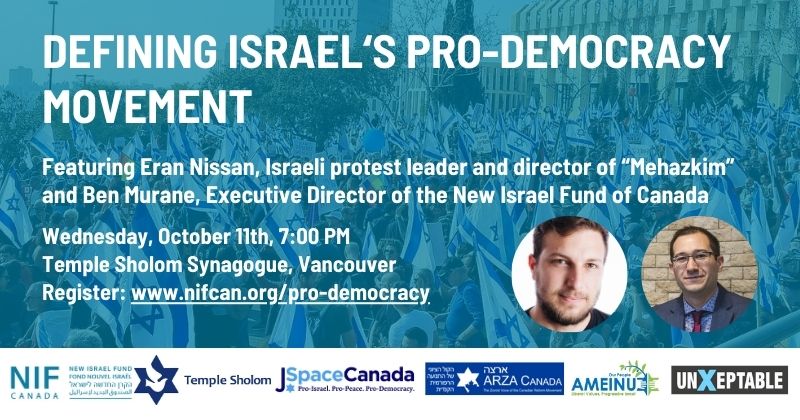 For over nine months, hundreds of thousands of Israelis have been protesting weekly against their extremist government's radical vision for Israeli society. They span geography, age, faith, and the political spectrum.
But this inspiring mobilization contains diversity too – and is lacking much representation from the 20% of Israelis who are Arab citizens. And a dogged few protestors are raising how unending military rule over the millions of Palestinians in the territories isn't democracy either.
What are Israelis debating about the meaning of "democracy" — and for whom? What tensions exist within this nascent movement? How are diaspora Jews and Israelis working together to ensure this movement fights for true democracy and equality for all?
Join this conversation between Eran Nissan, Israeli protest leader and director of Mehazkim, and Ben Murane, Executive Director of the New Israel Fund of Canada.
Co-presented by Temple Sholom, Ameinu Canada, ARZA Canada, JSpaceCanada, and UnXeptable Vancouver.
Please register below.
Our Speakers: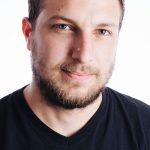 Eran Nissan is an Israeli peace activist. Prior to joining Mehazkim as Director, Eran headed the Education and Advocacy Department at 'Peace Now'. Eran holds a B.A. in Political Science & Philosophy from the Ben-Gurion University and an M.A. in Emergency and Disaster Management from the Tel Aviv University. Eran is a certified dog trainer, and volunteers at Magen David-Adom as an EMT and an ambulance driver.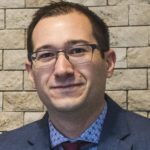 Ben Murane is the Executive Director of the New Israel Fund of Canada and a leading voice of millennial engagement with Israel. For over fifteen years, Ben has led at the intersection of Jewish life, social justice, and Israel. He previously worked for NIF's U.S. branch, won Jewish innovation awards for his work in environmentalism and campus life, and founded both online and offline Jewish communities. In 2012, he received the prestigious Dorot Leadership Fellowship in Israel, where he studied comparative nationalism and consulted for social action groups. He lives in Toronto with his wife and two young children.