Defending Liberal Democracy in an Illiberal Israel Webinar
12 March 2020 @ 8:00 am

-

5:00 pm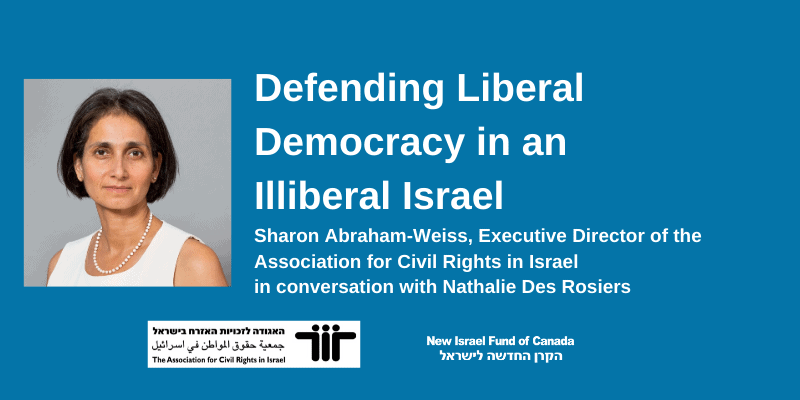 As Israel and many other countries announce tighter travel restrictions this week — and gatherings including ours are cancelled — we're going digital. 
A "peace" plan that advocates annexation. A sitting Prime Minister indicted. Three deadlocked elections in one year. A "court override" proposal and the Nation-State Law. The worrying trends in Israeli democracy continues to accelerate.
At this pivotal moment, the head of Israel's oldest and largest civil liberties agency will share her analysis and work from the front lines. As illiberal populism in Israel takes aim against the pillars of democracy – a vibrant media, independent judiciary, active civil society, and separation of powers – so too are progressive Israelis pushing back in defense.
Join us to hear from Sharon Abraham-Weiss, Executive Director of the Association for Civil Rights in Israel, in conversation with renowned Canadian lawyer Nathalie Des Rosiers, for an in-depth and frank analysis of Israeli democracy.