Community Partnership: "Objector" at HRFF+
3 December 2020 @ 6:30 pm

-

4 December 2020 @ 6:30 pm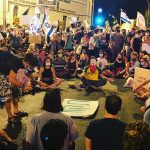 Join JAYU for the opening night of the 9th Annual Human Rights Film Festival with the Canadian premiere of Molly Stuart's "Objector."
Like all Israeli youth, Atalya is obligated to become a soldier. Unlike most, she questions the practices of her country's military and becomes determined to challenge this rite of passage. Despite her family's political disagreements and personal concerns, she refuses military duty and is imprisoned for her dissent. Her courage moves those around her to reconsider their own moral and political positions.
Objector follows Atalya to prison and beyond, offering a unique window into the Israeli-Palestinian conflict from the perspective of a young woman who seeks truth and takes a stand for justice.
Registration for this event includes 24-hour access to a digital screening of Objector, and a special pre-recorded Q&A with Molly Stuart and Atalya Ben-Abba. Registration is only available across North America.
Community Partner: New Israel Fund of Canada
About JAYU: JAYU is a registered Canadian charity and a leader in the space where the arts and human rights intersect. Learn more: https://www.jayu.ca/
Registration is free or Give-What-You-Can.