Briefing on Recent West Bank Violence
July 18 @ 12:00 pm

-

1:00 pm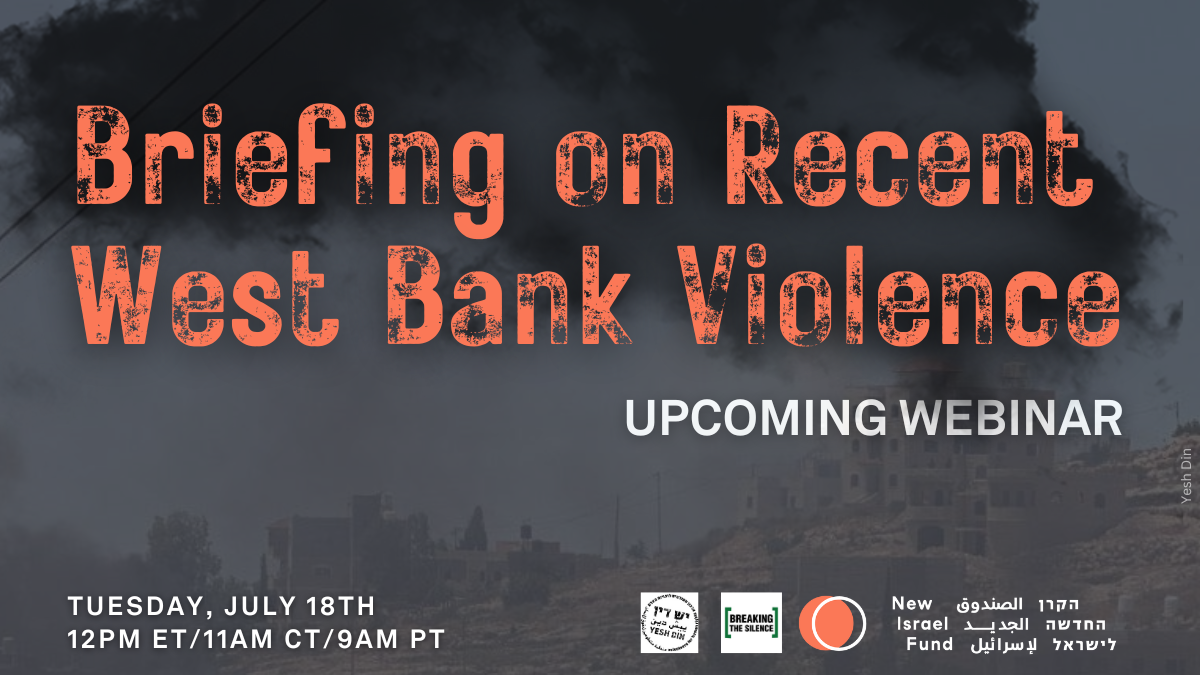 Between the recent Israeli military incursion into Jenin, violent reprisals by Palestinians, ongoing settler attacks in Palestinian villages, the recent acquittal of the police officer who killed autistic Palestinian Eyad al-Hallaq, and skirmishes during Israel's weekly pro-democracy protests, it's hard to know which way to look — or what to do.
There is no single course of action that will solve these crises. But there are a number of important ways to engage with the issues, learn more, and make a difference for people living admist the crises. Along with our partners on the ground, we are working at all levels to achieve justice, human rights, and equality for all people — in the courts, in the streets, in the press, and in the Knesset.
Join our upcoming webinar to hear from leading human rights defenders who will unpack what is going on and discuss what we're doing about it. Click here to register on NIF US's website.
Avner Gvaryahu was born in the Israeli city of Rehovot. During his army service, he served in the special forces of the paratroopers brigade, where he attained the rank of staff sergeant. A year after completing his service he joined Breaking the Silence as a researcher and tour guide with a focus on Diaspora Jewry, and later served as the head of our Public Outreach Department. Avner completed a B.A. in Social Work at Tel Aviv University and an M.A. in Human Rights at Columbia University. Today he serves as Breaking the Silence's Co- Executive Director.
Ziv Stahl has served as Executive Director of Yesh Din since April 2022. She has been with Yesh Din since 2010, mostly serving as Director of the Research Department. Ziv is the author of many reports published by Yesh Din in the recent decade, including 'A Life Exposed: Military invasions of Palestinian homes in the West Bank' (2020) and 'Mock Enforcement: Law enforcement on Israeli civilians in the West Bank' (2015). Ziv is a board member of both Zazim – Community Action and Akevot Institute for Israeli-Palestinian Conflict Research. She has an MA in political science from Tel Aviv University.