(New Generations) Gaza 101
30 October 2022 @ 12:00 pm

-

1:00 pm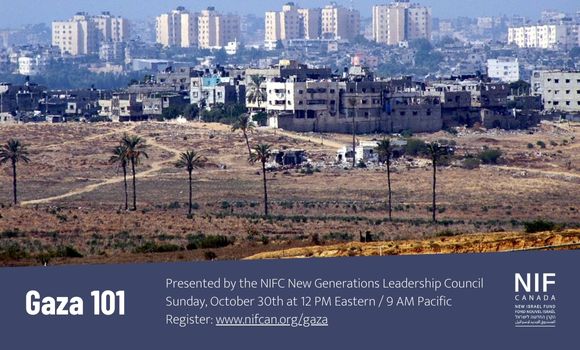 Described as "the world's largest open-air prison," Gaza is home to two million people, more than 80% percent of whom depend on humanitarian aid and two-thirds of whom are under 25. A well-documented humanitarian crisis, Gazans have been living under Israeli military blockade since 2005 and have been the victims of repeated violence between Hamas and Israel.
Who is responsible for the plight of Gazans and the disaster they live in? Are they the collateral damage in a war between Hamas terrorists and Israel's legitimate self-defence? Or must Gaza and Hamas be understood in a wider context of armed struggle against Israeli state violence and dispossession?
To untangle these complex questions, we invite you to our next installment of our Israel-Palestine 101 series on Gaza. We'll hear from Noor Assi, Freedom of Movement coordinator at Physicians for Human Rights Israel, and Naama Baumgarten-Sharon, a peace and anti-occupation activist who has extensively researched the humanitarian crisis in Gaza.
Speakers:
Noor Assi works as a freedom of movement coordinator at the occupied Palestinian territory Department at Physicians for Human Rights Israel (PHRI), where she directly assists roughly 180 Palestinian patients each year whose medical exit permits are denied while documenting human rights violations. Noor studied sociology, anthropology and gender studies at Tel Aviv university where her focus was on intersectionality in the context of gender and occupation. Noor was chosen to participate in the State Department's Professional Fellows Program at the State House of Boston and United States Congress, where she provided input to the District Representative on gender and intersectionality issues.
Naama Baumgarten-Sharon has been a peace and anti-occupation activist since 2001, and has worked professionally for Israeli NGOs, most notably as a researcher at B'Tselem, and for international NGOs operating in Israel-Palestine. As part of this work, she has written about the humanitarian crisis in Gaza, while never being able to visit there. Her research on Gaza has included areas such as the policies that govern the separation of families between Gaza and the West Bank and their impacts on human rights, with a focus on how these gender-blind policies have an especially harsh impact on women's rights; the water crisis and its history and evolvement; and restricted access to fishing and agriculture. In her work on the West Bank and East Jerusalem, Naama has focused on areas such as detention of minors; military courts; demonstrations; demolitions; and the long-term impacts of occupation on the Palestinian economy and society. As she currently lives in Toronto, Naama supports the work of the New Israel Fund of Canada by volunteering to speak at events run by NIFC.