Shira Herzog devoted her life to pursuing a better Israel. An accomplished Middle East analyst and a leader in Canadian philanthropic organizations, Herzog was committed to a progressive vision of Israel – one where all inhabitants' lives are respected.
A Jewish state, she maintained, shouldn't come at the expense of democratic values, and Diaspora Jews should not avoid engaging in what she called "loving criticism" of Israel, and its policies.
For this position, the Israeli-born Herzog, who died of cancer at age 61 in her Toronto home in 2014, was often criticized. And yet, as a longtime columnist on Middle East and Jewish affairs for The Globe and Mail and a leader in Canada-Israel relations, Herzog was widely respected for her nuance and measured analyses.
In Israel, the Herzog family is a household name. Shira's cousin Isaac "Bougie" Herzog is the current President of Israel, and her uncle, Chaim Herzog, was the former President. Her grandfather was Chief Ashkenazi Rabbi of British Mandate Palestine back in 1948.
Shira first came to Canada as a child, when her father, Yaacov Herzog, served as Israeli Ambassador in Ottawa. Later in life, she rose to become the head of the Canada-Israel Committee, chair of Philanthropic Foundations Canada, and a CBC commentator.
As head of the Calgary-based Kahanoff Foundation, she worked on projects that fostered Jewish-Palestinian relations. She split her time between Israel and Canada, working with organizations like the Institute for Research on Public Policy in Montreal and the Israel Democracy Institute in Tel Aviv.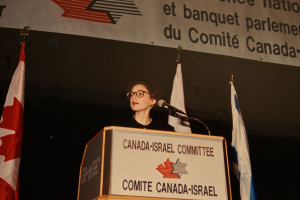 She was also a leading supporter of the New Israel Fund of Canada. We continue to pay tribute to Shira, keeping her memory alive by giving her name to our annual symposium.
Shortly before her death, Shira wrote in The Globe that vibrant debate exists in Israel, and that, "as Canadian Jews[,] we want to join that debate. It's out of commitment to Israel that some Canadians want to support those fighting for human rights."
Read her obituaries in the Toronto Star, The Canadian Jewish News and The Globe and Mail.